Why Chance The Rapper and Justin Bieber's "Juke Jam" Is a Song of the Summer Contender
"Juke Jam" is one of the best tracks of the rapper's recent mixtape, 'Coloring Book.'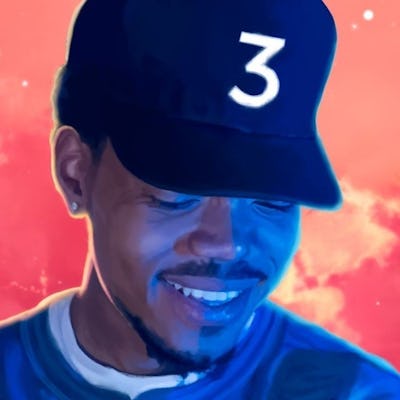 It's easy to love '90s R&B. It's easy to incorporate that love into music (especially nowadays), but some artists do it better than others. Bryson Tiller commands the attention of his fans by penning lyrics directed at one person — not many, at once as acts like Boyz II Men used to do. The majority, if not all, of Drake's OVO Sound roster reference and sample classics from the '90s and early 2000s (especially Ginuwine and the Swing Mob era).
Chance the Rapper has done so in the past, but he does so miraculously in one swoop on his latest mixtape, "Coloring Book.* "Juke Jam," featuring Justin Bieber and SAVEMONEY's Towkio, drips of '90s R&B. The slow jam opens crawling sonically, with Chance the Rapper then laying lines of young love over a bed of lustful production courtesy of Rascal (who's produced a handful of songs by Elhae).
Chance takes us back to Chicago's The Rink Fitness Factory where he first learned how to juke (grind), and "found out all the shawdys with cooties was cute." Background noise of the scene are sprinkled throughout the song. There's an innocent, but not-too-innocent vibe to the song which appeals to those who were as such in the past, and are now; it's the key to using nostalgia. Towkio comes in on the hook with an interpolation of R. Kelly's Feelin' On Yo Booty," tailored to fit the young and restlessness of "Juke Jam," but still keeping the essence of the original. Also, besides the song's lead artists being from Chicago, of course, the hook to "Feelin' On Yo Booty" fits the underlying theme of "Juke Jam": Good ol' grindin.'
Justin Bieber steps in for a short and sweet bridge with some reminiscing himself, and perhaps yet another sub-plea to his ex-girlfriend, singer Selena Gomez. "We've got so much history baby, maybe/ Maybe you and I were meant to be/ Maybe I'm crazy," he sings. Bieber's cadence and yearning is emblematic of his-R&B leaning work like Journals.
The nostalgia "Juke Jam" evokes – and is laced with sonically and lyrically – only heightens the precious era of '90s R&B. It's a trend we're seeing all across the pop landscape, and here's hoping it doesn't end anytime soon.