Tim Heidecker's 'In Glendale' is Not a Joke, and Not Just for 'Tim and Eric' Fans
The comedian's new singer/songwriter album is even better than its singles, and charming in its wry simplicity.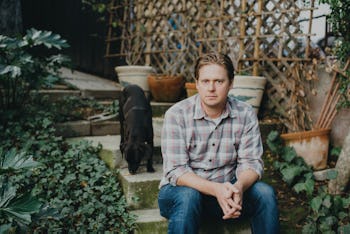 Pitch Perfect PR
Comedian Tim Heidecker's new album on Rado Records, In Glendale*, has been billed as a "serious" collection of songs. But Heidecker, known for rarely "breaking character" — or at least inevitably finding ways to mess with his audiences and interviewers in some way — the PR move seemed like it might be an ironic routine in itself. With song titles like "I Saw Nicolas Cage," could we really expect a straight-faced singer/songwriter album?
No, but writing "humorous" music and "breaking character" are not mutually exclusive. Heidecker's new album uses the language of '70s Laurel Canyon pop and folk-rock, among other reference points, to score warped micro-narratives that are either darkly twisted or pleasantly banal. The lyrics recall, most immediately, the sensibility of Randy Newman, who rarely wrote from his own perspective in his solo work. "Ghost in My Bed" is a three-chord strummer (like a number of the songs on the album) which comes from the perspective of a murderer who has, just — almost in spite of himself, perhaps — murdered his lover. It begins: "I put your head in a plastic bag/ And I buried it under the Hollywood sign/ I don't know why."
Likewise, "Good-Looking Babies" is a sardonically matter-of-fact tales of a imperfect, uncommunicative, all-American relationship between "Jane" and "Walter." But before the story can culminate in an actual moment of crisis (with Walter flirting with other women, among other minor trangressions, it seems like we're headed for a messy breakup). In the last verse, however, the third-person narrator reveals himself as a Nick Carraway-type character, explaining that he doesn't know what happened, because he lost track of the characters: I'm not in New York/I'm sailing around the world."
When In Glendale is not demented, black-humorous fun, there are some moments that seem outright autobiographical (see his recollections of Philadelphia childhood in "Central Air"). Though "I Saw Nicolas Cage" recalls a fictionalized Heidecker running into the Conair icon at some event, and having the actor not recognize him, it culminates with Heidecker driving past a fatal car crash on the highway: "No one knew them well/ They werent liked/ But I did shed a tear /Later in bed./ I saw Nicolas Cage/ Staring at me." This is classic Randy Newman-esque juxtaposition; Heidecker, throughout the album, often creates sharp, relatable imagery.
Heidecker's musical sensibility is just as plaintively clever and stripped down as his lyrics, which often favor brief, just-off-the-coast-of-corny lines more self-serious songwriters would avoid like the plague. But it's impeccably realized; Heidecker's big band of studio musicians and friends is professional-grade, and are a big part of selling these songs (try the triumphant full horn section that backs the chorus "Cleaning up the dog shit/ Cleaning up the baby shit/ All weekend long").
On In Glendale, you don't need to be a fan of comedy to get the joke; you just have to follow along with and chuckle at his trim, shaggy-dog tales, and possibly, love the mystique of West Coast living. It would also help if you like Warren Zevon. In Glendale comes at the perfect time: when the promise of the summer is still looming large. These musically sunny, irreverent tunes will more than do you right on a sunny car ride.
In Glendale is out this Friday, May 20th, on Rado Records. Stream it below.