7 Classic Black-and-White Superhero Films You Need to Watch 
Before special effects and CGI, Hollywood put out some fantastic pulp fictions.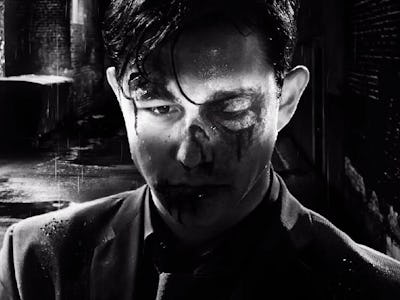 Dimension Films
While superhero mania might seem like a new type of Hollywood hysteria, the industry has actually financed films about masked heroes and vigilantes since moving images were projected on a screen. In the 1940s, several Hollywood production companies jumped in on a wave of serials based on popular comics and pulp-fiction heroes. Their output was almost as fast and furious as the ones we see today, with sequels to their most popular ones being produced as quickly as possible.
While most of these films followed a standard formula of tropes – including a costumed vigilante who fights villains and rescues kidnapped women – these films also featured some of the most daring special effects of their times. Involving very practical stunt coordination, and clever use of props to simulate everything from wall climbing to flying, these were some of the earliest films to experiment with movie effects. Nowadays, many of these heroes don't have the same cultural relevance they once did, but few of them have surprising connections to modern day heroes like Spider-Man and Batman.
Here are seven of these forgotten classics that you should brush up on ASAP.
The Spider's Web (1938)
Based on a pulp-magazine character of the same name, The Spider (no relation to Spider-Man… yet), The Spider's Web is a 15-chapter serial by Columbia Pictures. One of the most successful serials in film history, The Spider's Web starred a criminologist named Richard Wentworth who was secretly the vigilante known as the Spider. While he didn't have any superpowers per se, he did have a tendency to shoot down villains using two .45 pistols. While not murdering henchmen, he was chasing down his nemesis, The Octopus, and using his web line (surprisingly similar to Spider-Man's web shooters) to escape from danger.
The Mark of Zorro (1940)
Don Diego Vega is the wealthy son of a landholding ranchero who returns home from Spain only to see the mistreatment of poor, innocent locals all around him. Donning the alter-ego of El Zorro, he defends the weak from tyranny, while living a double life as a wealthy, playboy Don. Sounds familiar right? In the comics, a young Bruce Wayne went to watch The Mask of Zorro with his parents before they were gunned outside the movie theater. The rest is history, but you should definitely check out the film that inspired the future Batman.
Don Q, Son of Zorro (1925)
Despite featuring Zorro's son, Don Q, Son of Zorro was released earlier than the 1940s version of The Mark of Zorro and is completely silent. Starring Don Diego de la Vega's son Cesar, Don Q can be considered a prequel crossover, of sorts with the whip-wielding son teaming up with his father, El Zorro, to defeat the big bad at the end of the film.
Adventures of Captain Marvel (1941)
Considered the first adaptation of a comic book character, the Adventures of Captain Marvel actually has a long and fascinating history. Originally, it was an attempt by Republic Pictures to work with National Periodical Publications (today DC Comics) to create a serial around Superman. Failing that, the producers approached Fawcett Comics about turning their most popular comic, Captain Marvel, into a serial. While the serial doesn't resemble today's interpretation of the character known as Shazam, it features some of the earliest special effects in terms of live-action flying.
The Green Hornet (1940)
The Green Hornet is one of the oldest, most popular heroes in American fiction (its 2011 big-screen update notwithstanding). Newspaper publisher Britt Reid secretly solves mysteries and fights crime as The Green Hornet along with his karate expert valet, Kato. The success of the film influenced the 1960s Batman television show, which in turn influenced a television revival of The Green Hornet, but without all the camp and humor of the Batman show.
The Masked Marvel (1943)
The fun of The Masked Marvel is that the creators purposefully played around with the masked villain trope. Instead of revealing who the villain is by the end, it's actually the hero's identity that is unveiled by the end of serial. Before that, the audience is introduced to a mysterious Masked Marvel, who could be any one member of criminal investigation organization. Four candidates were presented as potential Masked Marvels, and audiences would try and guess who the real identity by the end of the film.
Sin City (2005)
The only modern film on this list, it didn't just make it for being the only black-and-white comic book film in the 2000s. Sin City is a genuinely ambitious film in terms of translating comic book panel to the screen, what's even better is that it largely succeeds. Sin City is a hard rated-R comic book adaptation in a time where such a thing was fairly rare (no Deadpool yet), but despite its penchant for blood, sex, and gore, Sin City still feels like a real risk in a time where comic adaptations feel a little too safe.