Canada's Next Astronaut to Go to Space Is David St-Jacques
The Quebec City native will blast off to the International Space Station in late 2018.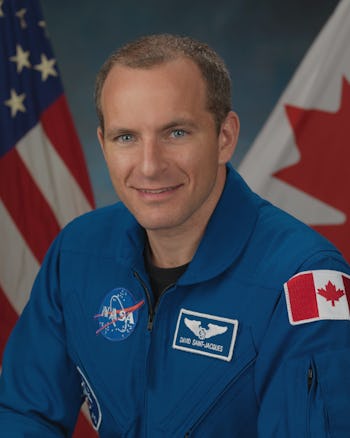 NASA/Robert Markowitz
Canadians, rejoice! The country's Minister of Innovation, Science, and Economic Development, Navdeep Bains, announced today that David St-Jacques will be the next Canadian astronaut to head to space when he begins a six-month stay aboard the International Space Station in November 2018.
"On behalf of all Canadians I thank you for your courage and wish you all the best," Bains told reporters and others in attendance at the announcement in Ottawa, sponsored by the Canadian Space Agency.
St-Jacques, 46, will be the ninth Canadian to head into space, part of the country's third long-duration mission and 17th overall space mission. Though details preceding Monday's announcement was short, it was widely speculated that the CSA would be revealing whether St-Jacques or 40-year-old Jeremy Hansen of London, Ontario were chosen for the next Canadian ISS mission. Both had been training since 2009, but had never been assigned to a mission until now.
It's no purpose that St-Jacques, the older of the pair, was chosen ahead of Hansen, though it's almost certain Hansen will get his chance to go into space sometime soon.
"We've been training together for seven years, helping each other every step along the way," said St.-Jacques. "Today, I'm the lucky one to be picked, but I know very well that it could be him and I can't wait for him to get his mission next."
St-Jacques follows in the footsteps of other famed Canadian astronauts like Marc Garneau (the current Minister of Transport for the government) and David Bowie cover artist/astronaut Chris Hadfield (the last Canadian to stay aboard the ISS, in 2015). Canada's most important contributions to the ISS so far have been in the realm of robotics — in which CSA-built systems like Canadarm2 and Dextre have been used to help spacecraft dock with the ISS.
Now, St-Jacques is looking to help expand the country's role into a broader forces.
"The doctor in me is eager to conduct experiments and experience first-hand the effects of microgravity on my body," he said. "The engineer in me is eager to operate Canadarm2, the astrophysicist in me is eager to look at the stars while floating in my space suit, and of course, the adventurer in me, he's just eager."