Man Develops App That Sends Random Food to Random Place, Eats in Gas Station
Max Goodman ended up eating dolmas at the side of a road.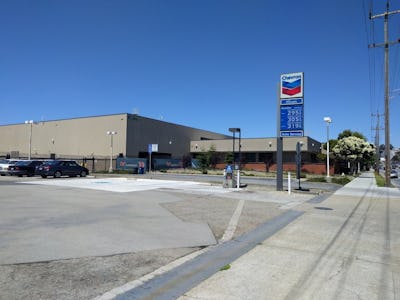 Chromakode/Twitter
A developer ended up dining on coconut water in a gas station Sunday after trying out his latest app. Max Goodman is the San Francisco-based developer of "Picnic," an app that orders a random food delivery to a random location, before ordering an Uber to drive you to that random location.
Goodman made the app at last February's "Stupid Hackathon" in New York City, where developers get together for one day and make things that have no value whatsoever. Other projects include an ad blocker that blocks all content that's not an ad, a camera app that only takes pictures when the phone is shaken, and a device that sends out a tweet every time you take a bite of food.
On its inaugural run, "Picnic" decided to send Goodman to Daly City. The app ordered Goodman one ranchero lebanese omelet, with a side of fennel garlic potatoes and extra almonds, eight pieces of dolmas (the app decided they should be gluten-free), and a bottle of coconut water. With a total of $22.40 before tax, "Picnic" decided that Goodman was feeling generous and added on a tip of $9.88.
Unfortunately, "Picnic" sent Goodman somewhere without anywhere to really sit.
Goodman later realized that Melody, the restaurant he ordered from, was a thirty minute walk from his starting point in San Francisco. Instead of getting him to use his legs and save the planet, "Picnic" made Goodman spend $12.62 to take an Uber several miles further.
Thankfully, the restaurant came through, and Goodman was able to eat his almonds and coconut water in a fun new location for the low price of $50.22.
Goodman now plans to share the source code on GitHub, just in case, for some reason, anyone else feels like having a similar afternoon of sitting in the middle of nowhere waiting for a mysterious delivery.