'Captain America: Civil War' TV Spot Reveals Ant-Man's Secret Weapon: Giant-Man
"Okay, tiny dude is big now."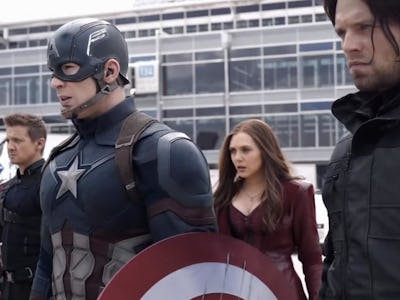 Marvel Studios
Captain America: Civil War released in theaters everywhere last weekend to widespread critical acclaim. The film currently holds a 90% "Fresh" rating on Rotten Tomatoes, and a 75 on Metacritic. Unlike a certain other superhero v. superhero spectacle (whose counter-narrative will forever link the two films in comparison) Civil War looks to be a rousing success with critics and viewers.
Marvel Studios knows this, and released a new trailer that shows off all the accolades showered onto their latest Marvel Cinematic Universe entry. Now that the film is in theaters, it looks like Marvel is no longer keeping the film's big secrets so close to the chest, as the new teaser shows off one of the biggest crowd pleasers in the film.
Towards the end of the big battle royale between #TeamCap and #TeamIronMan, Paul Rudd's Ant-Man decides to kick things up a notch and reveals an experimental power, wherein, instead of his usual shrinking, he grows several stories tall. It was a huge surprise for the audience, at least for the audience not interested at all in Legos.
A couple months prior to the release of Civil War, Lego accidentally leaked a few of their promotional tie-in toy sets for the movie, one including a giant Ant-Man. Some took it with a grain of salt, but it seems that upcoming Lego sets are a good source of information for some of your favorite upcoming superhero films.