How to Watch Eurovision in America: Nudity, Wolves, and Pop Drama
U.S. singing competitions need to up their game.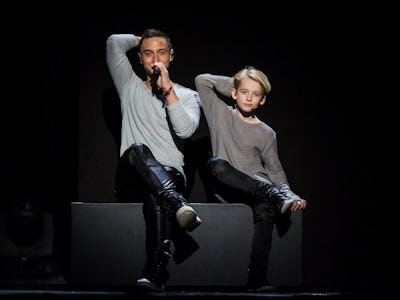 Michael Campanella/Getty Images
In today's digital era, it's easier, and more satisfying, to either love a trend, celebrity, etc. or to hate it. There's no in-between. For those who agree, Eurovision 2016 is for you. For those who disagree, Eurovision 2016 is especially for you.
Eurovision is an international song contest making its U.S. debut on May 10 on the Logo Network. It will also be available to view live on the official Eurovision website. The contest, much like American Idol, pits contestants against one another, showcasing their singing talents for a win. The competition takes place in Stockholm from May 10 thru 14, and "will air in all the 42 participating countries, plus China, Kazakhstan, Portugal, New Zealand and the U.S.," says the NY Times. Tradition is for the winning country of the former year to host next year's contest. Singer Mans Zelmerlow, from Stockholm, won last year with his performance of "Heroes."
What's interesting is that not only is there a range of genres explored (from techno to pop to rap (in Greek ), but the contestants have quiet the imagination…It's ridiculous. Belarus singer IVAN will be performing completely naked and with wild wolves for an "art" piece about the "mass deportation of Tatars under Stalin." The wolves tried to bite the naked performer during rehearsals. On top of that, the entire choreographed routine may be thrown out since Eurovision bans animals on stage. If that doesn't get you to tune in, I don't know what will.
Not invited to the party is Romania, since they were expelled after its national broadcaster failed to pay outstanding debts from 2007. Eurovision will bring together The Voice UK rivals Joe and Jake, as Joe & Jake (duh), to represent the UK by performing "You're Not Alone" as a duo.
Apparently people feel a way about another duo performing because they HATED last year's UK entry "I'm Still in Love With You," performed by Electro Velvet (consisting of Bianca Nicholas and Alex Larke). (One google search shows you it's really hate, not just whatever, words as "stinker," "disappointing," come up, as well as the phrase "United Kingdom's worst-performing act for 12 years").
In the past, votes have been delivered by pro juries and viewers to come up with a compiled score. This year, "they will be split into two separate sets of points from 1 to 8, 10 and 12. Only the jury points will be read out by each country's representative, with the televoting points kept secret until the scores are combined at the end of the night and read out in reverse order for a 'dramatic finish,'" according to Independent.
That's all a lot, which means the show will be a lot, and fairly similar to the Hunger Games. (Perfect).