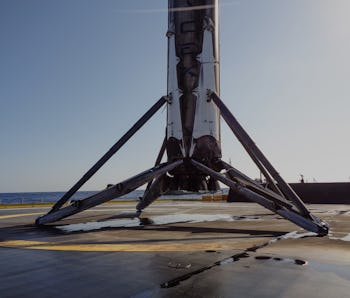 Innovation
Watch Last Week's SpaceX Falcon 9 Landing From 3 Different Angles
The Falcon 9's smooth landing came as a surprise to SpaceX engineers and even Elon Musk, who doubted its success. 
SpaceX/Flicker
For nearly a week before the launch of SpaceX's JCSAT-14 mission, word of internal doubt was freely distributed throughout headlines and quickly confirmed by Elon Musk, with a feeling of detached resignation. The mission itself was set to go off without a hitch, so a bad landing wasn't going to be considered a particularly huge failure. Despite all disbelief, the high-velocity rocket stuck its landing on the droneship known as Of Course I Still Love You in the Atlantic Ocean.
Today, SpaceX gave Falcon 9 enthusiasts a better look at the landing, which was one shot restricted angles during the launch's original broadcast on Friday morning. Described as the "hottest and fastest landing yet," the Falcon 9 moved twice as fast as its typical re-entry and still managed to hits its landing point without a hitch.
The Falcon 9 has come a long way in its development, and overcoming the odds to make its most recent landing is only one of the outstanding feats this model of rocket has achieved in its history. Back in April, Elon Musk got a little emotional over the rocket, detailing its long journey on twitter.
The JCSAT-14 mission successfully opened up new, vital communication opportunities for millions in Asia and the Pacific Islands that will not only bring Ultra 4K HD to more television sets in Asia, but also open up important connections in the case of a nationwide emergency. The Falcon 9's drone ship Of Course I Still Love You was recovered and returned to SpaceX's Cape Canaveral base this morning. Over the next week or so, a crane will gradually lift the 14-story booster off of the drone ship and the four legs of the stage will be removed before the drone ship is returned SpaceX hangar (likely at Kennedy Space Center) for post-mission inspections and tests.