Marvel Announces Civil War II Prequel Story
Meet Ulysses, the Inhuman at the center of Marvel's Civil War II comic series. He's not happy to be here.��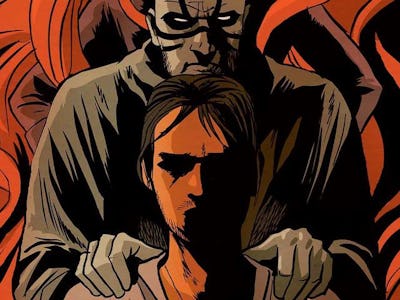 Marvel
Every good war needs a catalyst. For Marvel's Civil War II event, the spark that sets off the entire blaze is an Inhuman known as Ulysses. The event is a follow-up to Marvel's original Civil War in 2006, which loosely inspired Captain America: Civil War, out now in theaters.
Titled Civil War II: Ulysses, the 3-issue comic prequel series will detail the origins and motives of the mysterious NuHuman, who gains the ability to see the future after being hit unexpectedly by a roaming sacred super-mist that granted incredible powers. His unique ability sets off a massive debate on what should be done with similar psychic powers. Written by Al Ewing, the story pits Captain Marvel and Iron Man against one another in a battle of ideals, with classic characters and new favorites joining in on either side.
Ewing commented on where the character comes from, describing him as an innocent, everyday Joe. "He's just a normal college guy, not the super-hero type, who gets hit with the mists and wakes up with a power that could shake the whole Marvel Universe — the power to predict the future." While Ulysses' incredible powers sit at the center of Civil War II, the comic prequels are focused on the details of how he learns to use his abilities. "We're following Ulysses as he's taken to the Tower of Wisdom — a sort of Inhuman temple of learning, for want of a better term — to be trained by Karnak, whose Inhuman ability is to see the flaw in all things," Ewing explained. "Karnak's training methods might be more than Ulysses can handle, though.
Speaking of Karnak, Ewing didn't forget to share the love for one of his favorites. "I'm pretty sure fans of Karnak will enjoy this — he gets some good moments, and we get to see inside the recesses of the Tower of Wisdom. And hopefully this series will satisfy anyone who wants to know how Ulysses learns how to use his strange powers in time for Civil War #1."
Civil War II: Ulysses will release as a Marvel Infinite Comic in June, and in print in August.