#RunningManChallenge Brings Ghost Town DJs' 'My Boo' Back On The Charts
The viral dance craze has everyone falling back in love with the 90s R&B hit.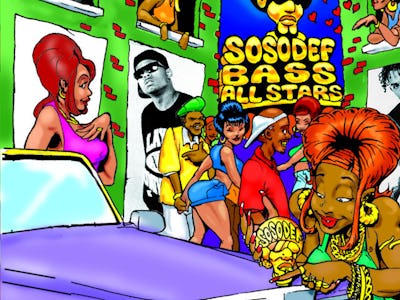 Every now and then, there's a new internet craze to obsess over, not too long ago it was "Damn Daniel" phenomena or the Ice Bucket challenge. Now, our nation's collective attention has turned to Running Man challenge, a phenomenon that incorporates the "running man" dance and Ghost Town DJs' immaculate "My Boo." Unlike the other two trends mentioned, the Running Man challenge is actually fun to watch and be a part of, especially if you're a '90s R&B aficionado.
How did it all start? Four months ago, Hillside, New Jersey teenage students Kevin Vincent and Jerry Hall were "sitting there bored" in Ms. Graham's finance class when Ghost Town DJs' 1996 classic hit "My Boo" "started playing" in Vincent's head, prompting him to singing to it.
"I started dancing to it and we just decided to make a video," Hall continued to share on Ellen DeGeneres' Ellen Show. "We decided to be ourselves and be silly." The dance, as you can assume, is similar to the running man, except Vincent and Hall's version is a bit more streamlined and tight — The challenge is to dance through the entirety of the song without a break.
After posting a few videos doing the dance, Maryland's Terp College basketball players Jaylen Brantley and Jared Nickens noticed and made it go viral by making a string of videos of themselves re-creating the dance in April. Both always clown around in the locker room, this day wasn't any different.
"Basketball is such a grind especially at the college level so we just try to keep our teammates loose in the locker room," Nickens said.
Ever since, different sports teams, from a one player to the entire team, were re-creating the dance, including the Miami Heat's Justise Winslow, Denver Broncos Von Miller, Georgia Southern Football, LA Dodgers, Dallas Cowboys.
It doesn't stop at sports though, some have made an animated Dragon Ball Z version of the #runningmanchallenge and evoked someone to recreate the song with dog barks, and of course include some side-stepping by Shiba Inu dogs, in case you were worried that this meme wasn't INTERNET! enough.
The craze has hit worldwide, making the song reappear on the iTunes charts and make a debut on an Apple Music's Pop workout playlist. Twenty years ago, "My Boo" reached No. 31 on the Billboard Hot 100 chart, and now it's reemerged and reached the No. 22 slot on the U.S. iTunes chart, thanks to the the #runningmanchallenge.
Unlike previous "challenges," we're hoping this one doesn't fade anytime soon. If it does, if Stephen Boss introduces it to Hillary as with dabbing, can we pick up on another '90s R&B song?