EFF Attorney: Apple, FBI Privacy Fight Is Not About "You," It's about Social Change
"All types of social change have depended on the ability organize in privacy, free from government surveillance."
by Kastalia Medrano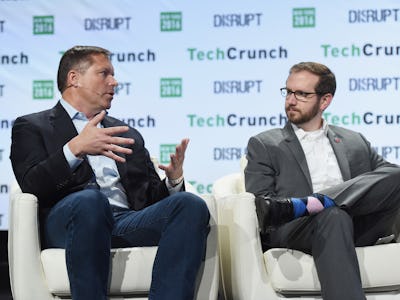 Getty Images
TechCrunch is live-streaming its Disrupt NY panels on its Facebook page today, including a discussion called "The Needs of the Many: Finding a balance between security and privacy through technology," featuring Nate Cardozo, senior staff attorney with the Electronic Frontier Foundation, and Marten Mickos, CEO of Hackerone.
Disrupt NY is TechCrunch's much-publicized technology summit for hackers, entrepreneurs, investors, and people who just like hearing those guys talk. It's being held in Brooklyn Cruise Terminal. It will take place over the next two days, so this security and privacy panel was just the beginning.
Hackerone recently partnered with the Department of Defense for the first bug bounty program to involve the federal government. Mickos said this exemplifies the evolution in how security is being perceived, and that his organization plans to focus especially on assisting those that don't have any expertise in software security, such as medical technology companies, but still need to be aware of their vulnerabilities.
"Everyone has vulnerabilities," Mickos said. "Every single system in the world is vulnerable one way or the other. I think we have a major shift from secrecy and closed systems to open ones … Companies realize that the only way to be properly secure is to be open about your vulnerabilities and invite people you do not know to help you … If the Department of Defense decides they're not powerful enough to keep their own system, secure without help, then who can do it? We worry about those who have no clue, they have no idea how their systems are vulnerable."
When asked about the degree to which cybersecurity is a class problem the most disenfranchised, lowest-income groups not having access to the kinds of secure systems that people of means do — Cardozo was clear that it's one of the most critical and telling problems we're facing right now.
"You're right, we have a new digital divide, and it's a privacy divide," Cardozo said. "And what strikes me as most horrifying about the Apple/FBI debate isn't just generally the FBI's take that they should have access to all of our communications and all of our storage … The FBI is really only worried about defaults, they're really only worried about the masses, and that is going to further deepen this digital privacy divide. And that makes me deeply uncomfortable."
When pressed about exactly whom Apple's battle with the FBI affects and why people who don't believe the case involves them should care, Cardozo became especially animated.
"My response to 'I have nothing to hide' is it's not about you," Cardozo said. "That's a deeply narcissistic position to take … All types of social change have depended on the ability organize in privacy, free from government surveillance … You couldn't have a gay rights movement anywhere in a theocratic state without privacy and security, so it's not about us. It's about everybody else. I don't care if you think you have nothing to hide — it's not about you. You're not that special."