How To Watch Mercury in Transit Live
This is a once-in-a-decade chance to see Mercury move between the Earth and Sun.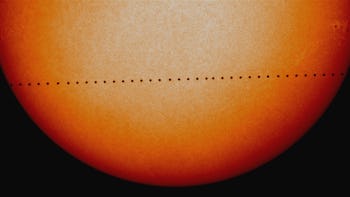 NASA
Amateur astronomers woke up excited this morning. Today is the day Mercury makes its way directly between the Earth and Sun, rendering itself visible starting at 7:00 a.m. EST. It's a rare opportunity to see the planet and, fortunately for all, there are plenty of places to watch this micro-eclipse take place online. (You can also do so in person, but you're going to either need equipment or hurt yourself.)
If you know what you're doing, and you have the right equipment, you can see the transition yourself sans livestream. Of course, this is only recommended if you are absolutely certain that you know what to do, as staring directly into the sun can be incredibly damaging to your eyesight.
Mercury is expected to start its transition around 7:12 a.m. Eastern time. The planet will reach the midpoint around 10:57 a.m., and the whole event will be over by the late afternoon around 2:42 p.m. Those who want to meet up with people in their local area to watch the event can try NASA's Night Sky Network to find local viewing parties.
Unfortunately, those on the West Coast with the right equipment will still need to use a livestream to see the Mercury transition start, as the sun will not have risen at the 4:12 a.m. local start time.
NASA will be livestreaming the event on two different channels, accessible via UStream. On the agency's "education channel," budding astronomers who want to see the event for themselves with no distractions will be able to see a livestream coming directly from NASAs Solar Dynamics Observatory (SDO), starting at 7:00 a.m. ET. On the agency's "media channel," NASA Scientists Alex Young, Yari Collado-Vega, and Stephen Rinehart will be on hand discussing the event as it unfolds, starting at 6:00 a.m. ET.
Space livestreaming site Slooh will also be showing the event starting at 7:00 a.m. Eastern. The stream will be a good chance to gain fascinating insight from a series of experts, as they will be providing live commentary on what the world is seeing.
Sky & Telescope will be livestreaming the event from 7:00 a.m. ET until 3:00 p.m. Host Kelly Beatty will be joined by a range of experts in one-on-one interviews throughout the day. The stream has partnered with Dexter Southfield's Clay Center Observatory, as well as multiple other streams across the country, to provide high-quality footage of the event unfolding.
Another option is Indiana University, Bloomington's Department of Astronomy, which will host a livestream from its Kirkwood Observatory starting from 11:00 a.m. Eastern. The event will be hosted by student Astronomer Karna Desai, who will be on hand to answer questions from members of the public about what's taking place.
There are plenty of streams to choose from, featuring top minds from the world of astronomy, so you can pick and choose depending on whichever stream you find most engaging.