Paulo Mendes da Rocha's 'Timeless' Modernist Buildings Earn Him Golden Lion
"His projects have resisted the test of time, both stylistically and physically."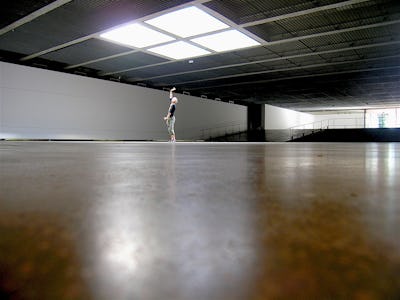 Flickr
Paulo Mendes da Rocha is no stranger to architecture prizes. The Brazilian has won two major prizes in the past. Today, however, he just tacked on a big one: the Golden Lion for Lifetime Achievement. La Biennale, the organization that awards the prize, credited Mendes da Rocha with designing beautiful, modernist buildings that retain their aesthetic and structural integrity.
Mendes da Rocha primarily blesses Brazil with these modernist bastions, which is why you may not have heard his name. This dedication went a long way in the awards committee's eyes because Da Rocha was "able to join shared and collective efforts" for many generations of architects in Brazil and Latin America. He was also someone who was "able to attract others to the cause of a better built environment."
But a glance around a few of his most striking works will make you wish he'd expatriate. As the committee notes, the "most striking attribute of his architecture is its Timelessness. Many decades after being built, each of his projects have resisted the test of time, both stylistically and physically." It is noteworthy: an architect who can create a building that's both eye-catching and durable.
"This astonishing consistency may be the consequence of his ideological integrity and his structural genius," they write. It could also have something to do with his unpretentious, go-to material choice: concrete.
"He is a nonconformist challenger and simultaneously a passionate realist. His fields of interest are beyond architecture, in political, social, geographical, historical and technical realms."
This photographer noted: "Nothing like an architect who stays true to himself without repeating himself… The sculpture museum… takes up the entire plot and becomes its own landscape, context, and view."