Everything You Need To Know About Alden Ehrenreich, the New Young Han Solo
What makes this casting story even better is how similar Ehrenreich's "discovery story" is to Harrison Ford's.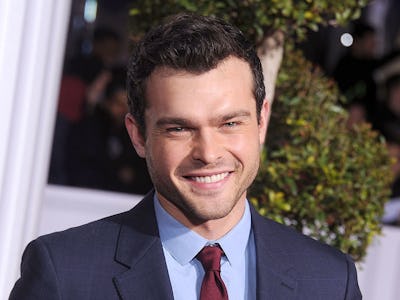 Getty Images
After months of speculation and over 2,500 actors screening for the coveted role, multiple sources are reporting today that actor Alden Ehrenreich will be taking on the role of a young Han Solo in the second Star Wars spin off film, scheduled for release in 2018. The movie will be directed by the powerhouse comedy duo of Phil Lord and Christopher Miller, and while details on the film's actual story remain under wraps, it is believed that the story will take place before A New Hope and involve Han Solo's loyal copilot, Chewbacca.
Regardless of which direction the film goes, Ehrenreich had stiff competition for the role, with rumored rivals such as Miles Teller and Taron Egerton. The 26-year-old Los Angeles native turned a memorable performance while starring in the 2013 YA thriller, Beautiful Creatures. He originally debuted in 2005 during an episode of what is quickly becoming one of the CW's longest-running shows, Supernatural. His casting was confirmed today by multiple sources including those that report to THR.
While Ehrenreich's position as a household name has yet to truly take hold, it's always good to know a little bit about the actor before they potentially take off into stardom, and Ehrenreich's background is not without its interesting stories.
Ehrenreich was originally discovered by accident at a Bat Mitzvah when film legend Steven Spielberg watched a comedy short that Ehrenreich starred in. With stand-out antics that caught Spielberg's eye, the young actor went on to score a series of smaller roles on television before fast-tracking to Francis Ford Coppola's 2009 film, Tetro. Harrison Ford, who originated the role of Han Solo, was also discovered while working as a carpenter for George Lucas, and scored the role after running lines with actors as a favor to Lucas. Ehrenreich lived a charmed Hollywood life growing up, before attending NYC's Tisch School for the Arts and co-founded a performance group, The Collectin, in 2009.
As far as Star Wars is concerned, this won't be Ehrenreich's first rodeo with a familiar Star Wars face (a.k.a. Chewbacca) — he's worked with Natalie Portman, who originated the role of Padme Amidala in the Star Wars prequels, co-starring with her in a 2011 Dior commercial directed by Sofia Coppola. Pretty sure Princess Leia wouldn't have been a fan of it.
At the moment, the actor is officially lined up to lead an untitled Howard Hughes film under the direction of Warren Beatty, and will star in YellowBirds with Jennifer Aniston later this year.
No comments from Disney or CAA, which represents the actor, have been released as of yet. The Han Solo movie will be the second of three planned anthology films so far within the Star Wars franchise.