Star Wars Day Has Now Completely Overshadowed the Kent State Shootings
There are still lessons to be learned from this tragic day.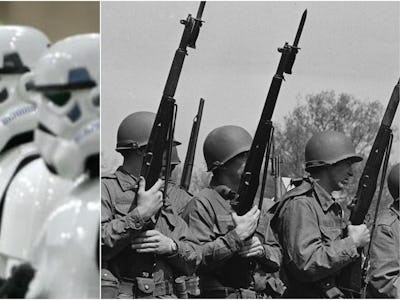 Daily Caller / Kent Library 
On this day 46 years ago, four college students were fatally shot by their own government, and nine injured. I grew up in Kent, Ohio (population: 32,345) and my first history lessons were stories of relatives pulling friends away from the line of National Guard troops poised to attack the angry protesters, who now look back and wonder, "if they could have been one of those four students?"
In 1970, hundreds of students took to campuses all over the country to protest President Richard Nixon's expansion of the Vietnam War into Cambodia. Kent State students got particularly violent in the days leading up to the shooting with riots and fires breaking out in certain parts of the town, but on May 4th things were relatively quiet.
Tension between students and the National Guard troops built throughout the day: Soon, students threw rocks at the line of troops, who responded by marching on them. They tear-gassed the crowd, which surrounded the troops, until they eventually fired on the protesters. One of the victims, Sandra Scheuer, a student who wasn't protesting, was walking to class and not taking part in the demonstrations. She was shot in the neck from 130 yards away.
As I love Star Wars, it's a little more than disheartening to go on Twitter and see this day in history turned into the jubilee of science fiction fans dressing up as Wookiees.
May 4th has turned into "May the Fourth be With You," a day celebrating all things Star Wars, and its many dedicated fans have scaled the movie holiday to epic proportions. That's wonderful and should be celebrated in some capacity.
Kent State isn't a blip on the historical timeline, organizers on the campus still use the day to raise awareness about social justice issues. Samaria Rice, the mother of 12-year-old Tamir Rice who was fatally shot by Cleveland Police in 2014, will give the keynote speech on Kent State's campus today. Organizers have said they'll draw on the connections between the horror on May 4th to the injustice delivered to the Rice family when a grand jury in December decided not to indict the officers who shot Tamir.
We lived in a world for many years where it seemed unfathomable that our government could gun down its own citizens in the streets like they did 46 years ago. But the families of Tamir Rice, Michael Brown and the more than 100 unarmed African-Americans killed in 2015, realize this is a lesson we can't forget.
So, enjoy "May the 4th be with you" for all its costumes. But maybe save a trending topic for the people who died on this day.