How Joseph Devon Cornered the Self-Published Book Market Before it Was a Thing
The Writer's Arena made short stories into weapons and the internet into an arena.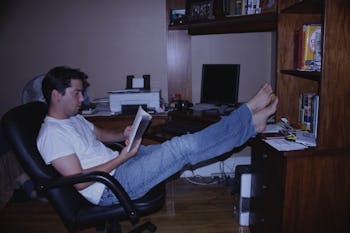 Careers rarely go according to plan. In Job Hacks, we shake down experts for the insights they cultivated on their way to the top of their field.
Name: Joseph Devon
Original hometown: Essex Fells, New Jersey
Job: Self-published novelist before self-publishing was big, co-creator of The Writer's Arena, an iron chef- style competition forum for authors.
How did you devise the concept for The Writer's Arena?
I met a lot of other writers online. We skype, we game, and chat on Twitter. One of my friends and I were talking about how we had fallen off our writing game. So we decided to challenge each other. You throw a prompt out at the other guy, and you write a story and reverse it in a couple of weeks. We decided to publish them online.
Neither of us realized it, but a third friend of ours read the prompt and decided he would write a story too. So when I put my story up, all of a sudden there was this other author with a story, and it turned into a head-to-head sort of battle. It was interesting to see what two different individuals did when they pondered the same prompt — how different each story was. It grew from there. We got our own site and we're still rolling. It's attracted a lot of readers and authors and started getting more professional.
Are all the authors on there self-published?
We have traditionally published authors, self-published, new authors. We really like trying to find new people and giving them a voice. The deadline forces you to crank out a story and pushes you to places you might not go. For beginners, that's usually a good thing. It gives them a fair amount of confidence, because when you have a prompt and you have 10 days and you don't know what the prompt is going to be, it's an even playing field.
How do you determine who wins?
We have two judges on board. They weigh in on each battle, and if they tie, then the audience votes to determine the winner. They also get ranked over time as people like them or don't like them.
Do you risk alienating authors if their stories don't do well?
We had some authors that didn't do so great and we haven't heard from them much. But the people coming back every week and reading and commenting and talking — there's an understanding. We keep the comments civil, and people understand that everyone drops a clunker now and then. You'll be up again next time around and maybe you'll crush it. There's also a lot of disagreement, which we like. We've had some people that are not happy with the notion of competing, but the winner doesn't get anything except bragging rights and maybe a few more eyeballs on their story. It's all about good fun and fostering writing and reading and comments.
How did you go about building the audience before this was going for a while?
Twitter's really where we kind of live. Whenever we post a battle to sci-fi or horror fiction, it tends to go high up pretty quickly. We get a lot of readers from there. But in general it's just marketing, really. We do a lot of that as self-published authors anyway.
You did try to publish the traditional route and got disillusioned with it, correct?
I had a fair amount of short stories published and stuff in journals. While I was doing that, self-publishing is pretty easy to do, so I started tinkering with that. I actually self-published way back in 2000, which isn't that far but in the world of self-publishing, it is. That was much more difficult. But then as the internet came along, people starting creating more tools and it became a lot easier. There's still a lot of challenges — it may not be for everyone — but I fell in love with the notion of how to create an audience and the marketing side of things.
What has it been like to be involved in self-publishing before it was widely done — and watching it evolve?
It's been really interesting. The best thing I've seen happen is people accepting self-published more, or not bothering to differentiate. Back in 2000, I don't even think I emailed off my first book. I sent a disk. It was a very different process. You would say you're self-published and people would sort of look at you weird, or not think it was as realistic to have a good book out that was self-published.
The credibility that's starting to come along has been wonderful. It's a tool that grew up around this whole notion of the internet allows cheap, unlimited distribution to anyone who can hop online. I was publishing short stories online and a few months into that that, Kindle came along. It was this revelation of not only is the internet out there, but they're going to have hand-held specialized devices that basically grabs the content on the internet and turns it into a book.