The Best Bot-Crafted Paintings and Drawings From the First-Ever RobotArt Contest
Robots draw way better than you do.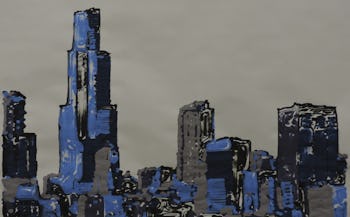 robotart.org
Last week, we were captivated by the arrival of the RobotArt contest, which is exactly what it sounds like, a contest amongst robots making art. There was all manner of robots and artistic genres in the mix, plus a prize of $100,000 encouraging the budding robot artists to be all that they can be. The contest comprises two categories: "fully automated" — all robot — and "manually generated," human guiding robots, which seems like cheating but whatever. The prize money comes from software development nonprofit compute.org.
This is the first such robot art competition in the world. In total, there were 71 entries, and you can vote for up to three of your favorites works of robot art here up until May 10. Votes count for 40 percent of the total score; the panel of art critics serving as the contest's judges handle the rest. Fourteen teams from seven different countries entered the contest, and since our coverage last week, new and exciting art has been created and posted online. The work ranges from super-basic sketches of the Pope (good) and President Obama (not so good) to dramatic works of impressionism and surrealism way better than anything you or I could do. Let's take a look: