Chiller's First Scripted Series is Horror Comedy Gold
Chiller's mini-series 'Slasher' is more than a quirky homage to the horror and mystery genre. It's also meta-funny.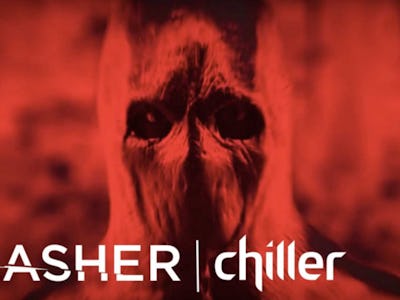 Calling all horror fans: if you haven't given Chiller's first scripted TV series Slasher a chance, the quirky mystery thriller is probably for you. It'll make you wonder if you should laugh or scream — or both.
Think a delicious combo of Friday the 13th meets Scream meets Se7en meets And Then There Were None. It's definitely not for the faint of heart: the opening scene takes place at Halloween in 1988, with a scary machete-wielding guy in a mask making kills.
Thirty years ago, in the show's universe, the sleepy community of Waterbury, a killer known as "The Executioner" viciously slaughtered Sarah Bennett's parents. Now Sarah (Katie McGrath) and her husband Dylan (Brandon Jay McLaren) have returned to town — and guess what? A series of horrifying murders centered around the seven deadly sins starts happening again; "The Executioner" is back. But if Tom Winston (Patrick Garrow) — the original Executioner — is behind bars, then who is the new person behind the mask? As the murders escalate, long-buried secrets are revealed, making everyone around Sarah a suspect — or a victim.
If the premise doesn't sound spooky enough, be aware that writer and Executive Producer Aaron Martin has confirmed that Slasher is based on a real-life killing that happened in the 1980s. And just in case you're still not convinced to start watching Slasher now, here are 5 more reasons:
The murder mystery actually wraps up in the first season
Unlike some shows that draw out intrigue forever, Slasher is designed as an anthology series that provides answers. By the end of the eight-episode first season, The Executioner is actually unmasked! Like American Horror Story, each season of Slasher is designed to be a "self-contained hybrid of the slasher sub-genre of horror films and the traditional murder mystery," which means we have a whole new mystery and slew of characters to look forward to in Season 2.
The cast of characters
Half the fun of Slasher is watching its cast of stock horror movie characters like protagonist Sarah, the final object of a killers obsession; slighly inept Deputy Dewey Riley and Deputy Cam Henry (Steve Byers), who goshes his way around town; nosy neighbor Verna (Mary Walsh); the serial killer rotting away in prison; and, of course, the Executioner himself, whose on a personal purge of sinful people using Biblical punishments.
A wickedly meta sense of humor
The first episode of Slasher is not just scary but is self-consciously quite tongue in cheek. For example, the first shot is even a close-up of an ominously grinning Halloween-style Jack O' Lantern, in a dark street-full of trick-or-treaters in costume. Jenny's father is dressed as a cowboy, and there is a hilarious case of mistaken identities when he opens the door and actually invites The Executioner into his home and hands him a bowl of candy to distribute, thinking it's his best friend in a hood.
Then when the friend actually shows up as King Arthur, the sudden switch from comic to horrific is only the more shocking. It's also quite meta when, as if foreshadowing what's to come, Jenny's pregnant mother casually mentions that she is planning to stay in for Halloween and "watch a scary movie."
Along the same lines, there's also a kind of Silence of the Lambs dynamic that develops between Sarah and Winston. After Sarah visits him in prison, he's obviously obsessed with her, to the point where he is willing to help her uncover The Executioner's motivations for killing.
Intriguing whodunnit and psychological thriller
Slasher gleefully treads the line between cheesy horror movie and engrossing mystery. On the mysterious side of things, we wonder how Tom Winston (Patrick Garrow) could be involved in the new killings from prison. There's also a connection between a nutty woman named Heather Peterson (Erin Karpluk), whose daughter recently disappeared, and the killings. Curiouser and curiouser.
The fake TV show 'Falcon Husbandry'
Yeah, things get pretty weird in Slasher too. In episode 2, Sarah's friends Robin (Christopher Jacot) and Justin (Mark Ghanime) turn out to be mega-fans of a fictional TV show called Falcon Husbandry. While it's unclear if the soapy Real Housewives-ish show is scripted or "reality," the episode titles are obviously designed for a side chuckle: "Taking Flight, Lady Talons," "A Feather in My Captain's Chair," "Walking on Eggshells," "Birds of Prey," and my personal favorite, "Unbeak My Heart." Just priceless.