How Maisie Williams Slays the Style Game Outside 'Game of Thrones' and Westeros
Meet Harriet Byczok, the woman turning a teenage star into much more than a blind assassin.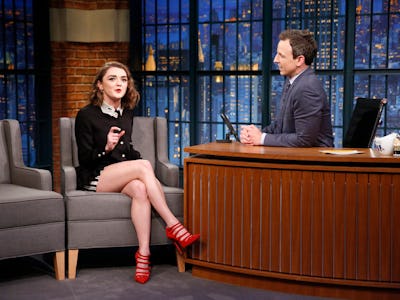 The Late Show With Seth Meyers
Careers rarely go according to plan. In Job Hacks, we shake down experts for the insights they cultivated on their way to the top of their field.
Name: Harriet Byczok
Original Hometown: Gloucester, England.
Job: Harriet Byczok is a stylist. Her primary client is Maisie Williams, aka Arya Stark on Game of Thrones. She's styled Williams for the BAFTAS, the Screen Actors Guild Awards, the Golden Globes, The Emmys, Comic Con, and more. Byczok has worked for Vogue Italia, ELLE, Vanity Fair, Glamour, Esquire, and others.
What's the most unexpected thing that's happened in the course of your career?
That my career actually happened. I have always been a bit of a workaholic and very ambitious, but the fashion industry is so competitive. I am so grateful to go to a job I love every day.
One of the most unexpected thing for me also was that I started working so closely with celebrities. I never considered doing red carpet styling at the beginning — I didn't really know any red carpet stylists and wanted to work purely for a magazine. It wasn't until I met Maisie [Williams] that I actually got interested it in. I absolutely love it now.
How did you meet her?
Her agent is a good friend of mine.
What's the biggest career challenge you've faced along the way?
The fashion industry is extremely competitive. I didn't grow up in London, and I didn't know anyone in the industry. I knew I needed to start from the bottom and intern as much as possible so I could learn everything I needed to know and start building relationships within the industry.
Unfortunately, the industry is very much who you know, and as I didn't know anybody, I wrote letters continuously to every magazine I could think of until one accepted. My first internship was quite a shock. The other interns were often relatives of members of staff and were all very competitive. I definitely stood out. Living out of London, I only knew what I had seen in magazines and I wasn't clued up on all the designers.
Internships are unpaid and very long hours. The office environments were often quite stressful. This was the first of 25 internships I did. I didn't know whether I would ever stop being an intern or if anyone would actually pay me. I definitely learnt a lot during in terms of how to deal with office politics — but also so much about styling that I have used in my day-to-day job.
Although getting my foot on the ladder was a hard time, the lessons I learnt helped me in my career now and make me so grateful for my job.
When you're styling a client, how do you balance their wants with your vision? Has that been a learning curve at all?
I like to have a chat with them and get to know them in order to figure out their own personal style and make the most of that. I like my client to make suggestions and show me brands they like, so I can get the best idea of what is going to make them feel confident on the carpet.
I am constantly looking at clothes on Style.com, in the street, in magazines. Quite often, the client knows how they want to look but just doesn't have the time and resources to put looks together. My aim is to educate my client on what is available and for us to work as a team to get their perfect look that will make them confident on the carpet.
Styling isn't always about making a best dressed list — sometimes it is just about making sure the client is the best version of themselves.
As Maisie Williams's stylist, it's a pretty unique position you're in, since she is someone who has grown up in the public eye. How has that influenced your approach? Has it been challenging to navigate that transition from a younger look to one that's more adult?
I love working with teenagers, Maisie is so open minded and we can have so much fun with her style. Obviously it is important to be age appropriate, but this doesn't mean it has to be boring. Teenage actresses can wear older styles in the future but they won't necessarily be able to wear the fun things they can get away with as teenagers forever. I started working with Maisie when she was 16 and we are continuously developing her style but ensuring it is still true to her.
I wouldn't say it has been a challenge to navigate that transition from a younger look to a more adult one, it has been quite a natural transition. I come up with new ideas and as new trends develop I like to develop my styling. As Maisie is growing up she is also personally developing her style.
With Maisie being in the public eye we are obviously aware that she is open to criticism, but we don't play it safe. We understand that not everybody will love what she wears. The most important thing is that Maisie loves it and that I am confident in the choice.
What advice would you give to aspiring stylists?
There is no secret to the industry. Everybody's success story is different. Although sometimes luck plays a factor, hard work does pay off. If its something you want to do, then there is no short cut. Anything worth having is hard work.
I would also say not to waste time worrying. I wish in my early twenties, I spent less time worrying and more time actually enjoying myself. When I look back, it was such an exciting time, but I spent so much time worrying about my future.
Don't listen to critics or analyze your competitors. Quite often, everything looks better from the outside. I would also say remember to be a good honest person. During your career, you will come across negative people who will try to make you feel bad about your aspirations. Remember these are the people you will potentially be coming across for the next ten years or so. The industry is very small. Be respectful to your employees also — people tend to work better when they are respected. They will progress in the industry and may even one day be your boss.
Surround yourself with positive people that have your interest at heart. Working days can be very long and exhausting, but remember your health and happiness is a priority.
What's next for you? What are you most excited about for the future?
I would like to continue working with celebrities. I love dressing teenagers, so I am excited to start working with new young and up and coming talent. Although I love working with actresses, I would like to start working with musicians and pop stars. I hope to one day work with a cool girl group — that would be a lot of fun. I also love hip hop so would really enjoy working with some of my favourite rappers.