Imagining Rick Ross, Meek Mill & Migos In Fetty Wap's Mobile Game
Wouldn't it be glorious if Fetty Wapp's mobile racing gaming app featured special appearances?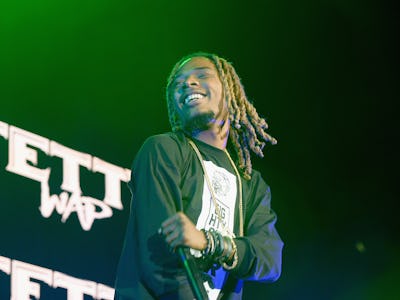 Gustavo Caballero/Getty Images
Now that Fetty Wap has staked his claim on the charts, he's moving on to mobile gaming. He is partnering with Moor Games and Creative Mobile to launch a mobile racing game app, "Fetty Wap: Nitro Nation." If you riff a bit on Fetty Wap's known love for cars, and the words of Moor founders Keegan Carter and Davon Robinson, this makes perfect sense: "Mobile gaming is hot. Fetty Wap is hotter." Well, there you have it.
Fetty Wap's voice will reportedly guide players through the game, which hopefully means players will hear "yeahh baby" when their car is in the lead. If you're losing, will you hear Fetty sing mournfully, "baby won't you come my waaAAaay?" Unclear.
The game will feature "head-to-head mode, worldwide multi-player functionality, and more," says Rap-Up. And it will be available May 3 through Apple and Google App stores.
We've imagined what'd it'd be like if a few other rappers made surprise appearances in "Fetty Wap: Nitro Nation Stories."
Seeing that Desiigner is still No. 1 on the Billboard Hot 100 with his hit, "Panda," the New York rapper could make a quick stop in the beginning level, driving his "Black X6, Phantom/ White X6 looks like a panda."
Although Meek Mill has rapped about his Rolls Royce, Maybach, "new Ferrari," and his Phantom, and all on one song (Dreams and Nightmares' "Intro"), he'd pop up in the game on an ATV motor bike. Meek's rapped about riding around his bike in countless of songs and has done so with his girlfriend, rapper/singer Nicki Minaj.
Migos would come through from around the corner in an Audi R8, as rapped about on "Contraband": "Audi R8 creepin' like a tarantula/ Making moves, spectacular."
Last but not least, Rick Ross would be featured in the final stage of the game, pulling up to a dock in a Maybach. He'd hop off only to hop onto a three tier boat, segueing into the second installment of the game, "Fetty Wap: Nitro Nation (Deep Sea Edition)." We are already envisioning Fetty Wap riding out to find DJ Khaled who finds himself lost at sea…yet again.