How Father John Misty & Ezra Koenig Ended Up On Beyoncé's 'Lemonade'
A few surprising collaborators made the cut, and this is how the magic happened.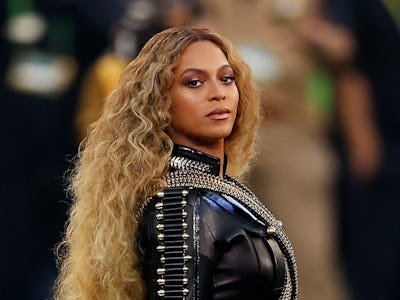 Ezra Shaw/Getty Images
When strolling through the credits on Beyoncé's sixth studio album, Lemonade, a few surprising names appear, like Ezra Koenig, the Yeah Yeah Yeahs, and Father John Misty. Bey' is known to work with a range of musicians, and Lemonade features her dabbling in genres outside those she's known to dominate. Here's how a few unexpected collaborations came to be.
Vampire Weekend's Ezra Koenig, inspired by the Yeah Yeah Yeahs, tweeted a riff of a lyric from "Maps" in 2011: "hold up…they don't love u like i love u."
In 2014, Koenig ended up in the studio with Diplo, originally working on Vampire Weekend music, where he used the tweet as a hook. Of course, he added new lyrics and melodies. He was then "easily convinced" that it'd be better suited for a song for Beyoncé. How do you say no to that? You don't. Koenig, down for it, let it be and it ultimately landed on "Hold Up."
Father John Misty, born Josh Tillman, told his own story of how he ended up on "Hold Up." "About a year and half ago, my friend Emile Haynie played Beyonce some of my music, along with some tunes I've written for other people, back when she was looking for collaborators… Pretty soon after they sent along the demo for 'Hold Up,' which was just like a minute of the sample and the hook," he told Billboard in a statement.
"I'm pretty sure they were just looking of lyrics, but I went crazy and recorded a verse, melody and refrain too that." Bey visited Father John Misty's Coachella set in 2015 and told him herself that some of his contribution made the cut. "The first verse and regain is my lyrics and melody," Tillman said.
You can also find featured guest, co-writing, and co-production credits by Jack White, former frontman of the disbanded White Stripes, on "Don't Hurt Yourself." While White has yet to speak on how the collaboration came to be, we'd like to imagine the initial convo went down during a Tidal roundtable: