The Autopsy on Prince's Body Is Complete
The autopsy concluded this afternoon, but it could be weeks before we know anything.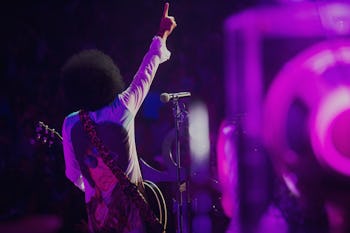 WB Records
Yesterday, the world learned that Prince died at age 57 in his Paisley Park Studios estate in Minnesota. Local officials investigating the musician's death began the autopsy this morning, but according to Reuters, it could be a while before we know anything about how the idol died.
Before yesterday, there were reports of Prince's struggles with his health. He'd been hospitalized after the emergency landing of his plane in Moline, IL last week, but details on the landing and subsequent hospitalization were scant. According to some accounts, he was simply battling the flu, and according to his own Twitter account a few days later, he was "#Transformed."
A press release from the Midwest Medical Examiner's Office said, "Midwest Medical Examiners Office will not release information until the exam is complete and all results are obtained. Gathering the results will take several days and the results of a full toxicology scan could likely take weeks." The exam itself was completed around 1 p.m. Central Time today, according to another report, and the body will be released later today.
Though we likely won't know anything for a few weeks, rumors and speculation are swirling around his death. Variety spoke with Owen Husney, Prince's first manager.
"It just kept gnawing at me that something wasn't right," he said of the emergency landing in Moline. "I had the feeling that there was something more to it."
He also told Variety that news of Prince's memoir and plans to convert Paisley Park into an attraction that would be open to the public concerned him. "This is not something you do while you are still living," said Husney.
While the world awaits answers, mourning for Prince has taken many forms, from Broadway tributes to fans sporting purple and to revisiting covers by well-known stars to long, cathartic listening sessions. The world's lost a legend, but his legacy lives on.
Rest in purple, Prince.