The Real-Life, Utopian Locations of 'Equals'
The sci-fi film's sleek, futuristic zen is just what you are looking for.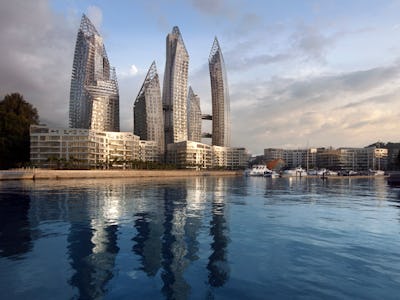 Although most sci-fi movies depend on CGI visual effects to create a vision of the future, Drake Doremus's Equals unfolds against sleek, minimalist real-life locations that subtly underscore the narrative. The sci-fi futuristic thriller takes place in a utopian society known as "The Collective," which has managed to eradicate violence and crime by genetically rooting out all human emotions — including love, which is viewed as a kind of "disease."
As a passionate romance blooms between colleagues Nia (Kristen Stewart) and Silas (Nicolas Hoult), the violence of their awakening feelings contrasts nicely with the zen-like architecture sited in natural, lush surroundings, which seems especially designed by the Collective to keep workers calm, focused, and productive. So, unsurprisingly, after considering numerous locations in Kuala Lumpur, Romania, Berlin, Brazil, and China, Doremus decided to shoot most of Equals in Japan.
Seeking the look of a pristine, monochromatic environment that was still high-tech but removed from the chaos of contemporary life, Doremus wanted to answer the question: "If we could start over and do things right this time, what sort of aesthetic would we create?" He also added: "It needed to be functional…classic, simple and not distracting so that the love story takes center stage."
In particular, the buildings of Pritzker Prize-winning architect Tadao Ando proved a huge inspiration. Ando's designs are often known for their poetic use of concrete, as well the striking, emotional impact created by a play of light and shadow that reaches heights of the spiritual. For example, Ando's Awaji Yumebutai conference center on Awaji Island, near Osaka, often serves as a key backdrop to the Collective's work-social interactions. Doremus and his team also chose the Sayamaike Museum — a beautiful interface of water and light — as the prison-like den where "diseased" individuals are sent to be rehabilitated. Many viewers would probably expect the den to be a dark and forbidding place in the film, but Doremus' vision of it seems to be a serene spot for an end-of-life scenario.
Art director Jason Hougaard noted: "Basically we had to create a world where each character has a workspace that felt different from anything we've experienced before. We steered away from the MacBook Air version of what the future might look like and also wanted to stay away from the finger swiping you see in Minority Report." Instead, Nia and Silas use digi-pens on the sleek screens, tablets, and interfaces that are seen throughout Equals, which were specially fabricated by Kansas City-based design company MK12.
In addition to the elegantly refined architecture of Japan, Doremus also used Singapore's Botanical Gardens, as well as the Reflections Towers apartment complex by Daniel Libeskind (probably best known as the master plan architect for the new World Trade Center in NYC). Based on Libeskind's floor plans of The Reflections Towers apartment, the Equals production team created Silas' hyper-minimalist living module, which is a rationalist machine in itself. Basically, it's a shiny white box with an enviously spectacular vista of the city. When Silas needs to rest, a sleep pod emerges from the wall. When he needs to eat, a kitchen pod emerges.
The real-life locations used in Equals prove that not all utopian visions have to be made of pure fantasy. Yes, you can actually pack your bags and visit these fabulous sites in Japan and Singapore yourself. In fact, director Doremus and his incredibly talented crew of filmmakers, designers, and producers immerse us so completely in such a stylish, graceful, sun-drenched world that you'd have to be crazy not to want to live in that future now.