TechDay NY Startups Show What a Day in the Life of the Future Will be Like
Get ready to use your smartphone for pretty much everything.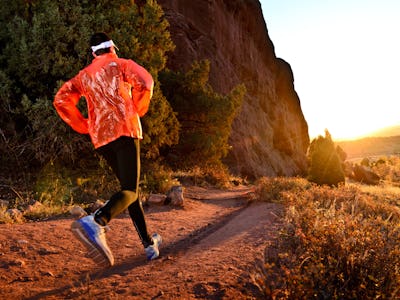 Speerit
Your daily routine is about to get a whole lot more connected. Wednesday, at the U.S.'s largest startup conference, TechDay NY, up-and-coming ventures set up stalls in Manhattan's Pier 94 to pitch their ideas for what the future will look like. If these companies succeed, there's going to be a lot more social networking, a lot better recommendations, and a lot less waiting in line.
6 a.m. - Daybreak. Time to get the day off to the right start. You pick up your iPhone, fire up Speerit, and go for a run around the block. When the service launches, the app will match up runners in a sort of social network, measuring pace, distance, and location, so they can compete and encourage each other to stay on track. Speerit also lets runners organize to meet each other, so anyone who's just started running and doesn't yet have a running partner can find someone on their same skill level.
Of course, no run is complete without running gear, and Physiclo thinks it has the answer. These compression pants help reduce wind resistance, while the unique design promises to boost calories burned by up to 14 percent. The company claims that wearing the pants makes the muscles work 23-percent harder, meaning daily workouts achieve the same health benefits in a shorter space of time.
8 a.m. - In this busy new day, you won't have time for idle chit-chat. You've got places to go, people to see. SpeedETab helps cut waiting time when it comes to morning coffee by letting you order from the app before you arrive at your local cafe. The app supports Apple Pay to pay for drinks, so no need to have to fish out your card. You're in a rush, after all. When the drink is ready, the app will notify you. SpeedETab even works with happy hour drinks, cutting down on awkward waiting around at bars too.
9 a.m. - Time for work. No need to cram yourself into a depressing cubicle, though, this is the future! Croissant lets people share workspaces all around three cities: New York, Washington, and Boston. For plans starting at $39 per month, members can book into a range of communal work spaces with coffee, tea, and wifi access. Book ahead of time using a smartphone app, letting people chop and change depending on where is most convenient to start working.
6 p.m. - It's been a long day working at the Croissant. Time for food, but what to eat? Suggestaurant turns takeout suggestions from friends into a food-centric social network. No more placing blind faith in strangers on Seamless. If you trust your friend Gary's opinions on pizza places, you're probably more likely to order from Gary's favorite pizza place.
8 p.m. - Time for some evening entertainment. Culture Craver works on a similar model to Suggestaurant, curating friends' suggestions on everything entertainment, including theater shows to go to and films to watch on TV. Culture Craver has an Apple TV app, so instead of hunting around Netflix with its oddly specific search genres, you can find out what friends have liked and start watching their suggestions instead. That way, if you don't like a film, you also have someone you can blame.
10 p.m. - It's been a long, smartphone-connected day in the future. The film your friend liked is over, you didn't like it, and you've already texted them to find out why on Earth they liked it. Off to bed now though. You'll need to save your energy if you want to better your score on Speerit tomorrow.