IDW Will Publish an Ace-High Steampunk Comic
The comic book publisher behind '30 Days of Night', the 'Ghostbusters' comics and 'Wyonna Earp' is about to get steamy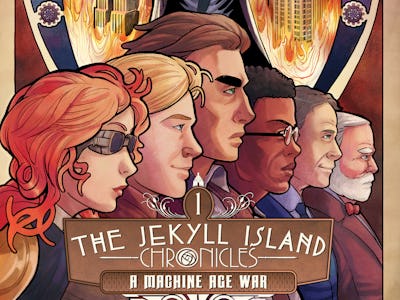 Top Shelf Productions
Steampunk is a genre that lies at the intersection of history, fashion, and DIY engineering. Fans of this world are incredibly passionate about the merging of the three subcultures and their unique appeal. To outsiders, steampunk looks to be a copper-plated mystery, but any serious student of aesthetics or science fiction would do well to check out The Jekyll Island Chronicles, which hits bookshelves in June. The graphic novel, created by Steve Nedvidek, Ed Crowell, and Jack Lowe, will be released by IDW Publishing, which also published 30 Days of Night, the Ghostbusters comics and Wyonna Earp.
What is Steampunk?
Steampunk is a sci-fi subgenre which essentially imagines a world where the 19th century industrial revolution never ended. Steam and electricity are the de facto power source which fuels much of the world's technology, and steampunk stories usually take place in an alternate history of either Victorian London, metropolitan US, or the American west. The chief signifiers for steampunk are the futuristic technologies designed as if it were still powered by 19th century methods.
The fun of steampunk is firmly rooted in the sort of handmade crafting many fans get into. The DIY aspect of it is why the genre appeals heavily to cosplayers who often come up with fantastically intricate original designs for their characters. Combine that with the elegance of 20th century fashion and Steampunk has a built-in fanbase of history buffs, fashion designers, and inventors.
The Jekyll Island Chronicles
Taking place immediately after the end of the first World War, The Jekyll Island Chronicles presents an alternate history in which anarchist plots in the United States, which resulted in such incidents as the Wall Street bombing of 1920, are carried out by a secret cabal of villains. To counter this, U.S. leaders like President Woodrow Wilson, Andrew Carnegie, and Henry Ford employ specially powered individuals to fight back. So, historical steampunk superheroes — got all that?
What's most impressive about The Jekyll Island Chronicles is the amount of historical context in the story. While the Woodrow presidency and policies are explored here, there were many instances of these footnotes of history getting magnified and cleverly played with in this alternate history. Consider this historian impressed.
This playfulness is also what makes The Jekyll Island Chronicles a good introduction to the steampunk genre. The novel features all the staples without necessarily going to heavy on the mythologizing. This is an easily understood history where well-known historical figures just happen to enlist the help of a strongman with mechanical legs, a woman who conducts electricity, an ace pilot of a steam-powered warplane, and a Tuskegee cryptologist to combat evil Anarchists under a leader named Zeno (possibly after the Zeno Paradox).
Sometimes it is weird to see figures like Woodrow Wilson and Henry Ford shown in such uncharacteristic lights. Due to Steampunk's revisionist take on history, some figures in history get the less savory parts of their story sanded away for narrative effect. Some of that is present in Jekyll Island, when we're introduced to the capitalist titans of the 20th century.
The Jekyll Island Chronicles succeeds, however, by introducing a little diversity to its core cast. It is refreshing to see authors make a conscious effort to expand representation in their work, especially when working in a genre that is often unfavorable to minorities, due to the strict time period from which steampunk often takes its inspiration. The best work will often overcome these limitations, and it's good to see the authors here bring in a fun cast of characters from varying backgrounds.
Also, Nikola Tesla makes an appearance in this comic, just as he should be, in all good steampunk stories.
More Steampunk
If The Jekyll Island Chronicles gets you interested in this wildly popular genre of sci-fi, consider checking out a few of these other titles in the steampunk oeuvre.
The Prestige. Directed by Christopher Nolan. 2006.
Hugo. Directed by Martin Scorsese. 2011.
Sherlock Holmes. Directed by Guy Ritchie. 2009.
Atlantis: The Lost Empire. Directed by Gary Trousdale, Kirk Wise. 2001.
BioShock & BioShock Infinite. Irrational Games. 2007, 2013.
Dishonored. Bethesda Softworks, Arkane Studios. 2012.