Tom Wheeler and the FCC Are Bringing Back AM Radio. Here's Why and How
Competing technologies killed the radio star.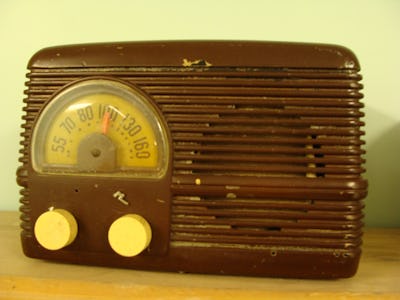 Deseronto Archives on Flickr
The FCC is trying to make AM radio happen again. As part of an effort to revitalize the technologies behind the service, chairman of the FCC Tom Wheeler wrote on his Twitter Wednesday that it has made great strides in helping stations boost their signal.
But why AM radio? Despite the advent of satellite and internet radio, AM still reigns supreme in many cases. The problem is, as new technologies demand more airwave space, AM radio can suffer from interference problems. Other issues, like neglected regulations that have not been updated, can hamper growth. The FCC's acting chairwoman, Mignon Clyburn, released a document on October 2013 calling for the commission to start discussing how it could help AM radio survive.
Wheeler took to the FCC's blog last year to explain why the venerable communications medium needs to be saved:
As the oldest broadcasting service, AM radio has been a vital part of American culture for decades and today remains an important source of broadcast programming, particularly for local content. In fact, Americans turn to the AM dial for a majority of all news and talk stations.
However, AM radio stations currently face unique technological challenges that limit their ability to best serve their listeners.
At the NAB show in Las Vegas, Wheeler sounded upbeat about the future of AM, but others weren't so sure. Radio Ink, a news site that covers the industry, wondered if it may be too late to help AM radio. "In all likelihood, with a new president about to be elected, Wheeler will be long gone before we really know if the FCC's AM Revitalization paid off," it wrote.
Nonetheless, the FCC is taking crucial steps to keep the radios running. In February 2016 the FCC started taking applications for AM radio stations to apply to use FM radio translators. These translators help boost the signal so stations can extend to areas they may have not otherwise been able to reach from their original broadcast point.
Beyond the translator initiative, the FCC has also relaxed rules about when AM stations must be transmitting. RadioWorld explained that the previous nighttime rules placed a burden on stations to continue broadcasting even with a limited staff. Those rules have been dropped now for existing stations, and new stations will be able to ask the FCC to reassess their need to follow the rule after operating for a few years.
The FCC has also reduced burdens on AM broadcasters by ditching rules that encouraged them to continue using inefficient, outdated equipment. One such rule was the so-called "ratchet rule"; it asked stations to reduce signal when broadcast equipment was updated. The goal was to reduce interference between stations, but it led to an unintended result where stations avoided updating their equipment.
The U.S. may seem like it has moved on from the days of huddling around the wireless, listening to the latest broadcast, but the FCC is still committed to keeping this unique art form alive, supporting an institution that has held together communities for decades.