Why Robert Schwartzman Decided to Join the Coppola Family Business
The actor/singer adds filmmaker to his resume with "Dreamland"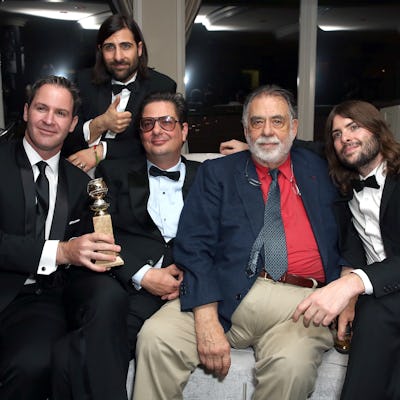 Robert Schwartzman had already carved out a unique place for himself in Hollywood's most accomplished and sprawling family: Amongst three generations of directors and producers in the Coppola clan, he was the rock star. But the lead singer of Rooney, and more recently a successful solo act, couldn't resist the pull of the family business; in fact, secretly, it was always his first love, and one to which he finally returned with his directorial debut, the indie dramedy Dreamland.
"I was never upfront, when I did my Rooney project, I never made it a part of the story, but directing was my lifelong goal and dream," the 33-year-old told Inverse last week after his film premiered at the Tribeca Film Festival. "Prior to making music, prior to Rooney, prior to learning guitar, I wanted to make movies."
Schwartzman grew up around movies; he is the son of actress Talia Shire, best known for her role as Adrian in the Rocky franchise, and the late producer Jack Schwartzman; his brother is actor/producer Jason Schwartzman. Five other members of his extended family — including the patriarch, The Godfather director Francis Ford Coppola — have directed a major feature film. And even when he was away from home, Schwartzman was making films from a young age.
"We had a little film school at the elementary school I went to," he recalled. "From the ages of 8 to 11, we made movies; we shot a remake of Robin Hood in my backyard. I did the Hunchback of Notre Dame — I played the Hunchback.From the ages of 8 to 11, we shot a remake of Robin Hood in my backyard. I did the Hunchback of Notre Dame — I played the Hunchback."
He featured in several real Hollywood productions in his early years, most prominently Disney's The Prince Diaries before Rooney took off, at which point writing music for films was his main contribution to cinema. It took a chance meeting with Benjamin Font, an author who was dating Schwartzman's girlfriend's best friend, to kickstart him toward what would become Dreamland.
"I approached him about a young piano player who is in a relationship that is past its moment, and he meets this woman of a certain age who sweeps him off his feet at the right time, and he has a dream to open a piano bar," Schwartzman said. The young piano player would be named Monty and played by Johnny Simmons (The Perks of Being a Wallflower), the older woman was portrayed by Amy Landecker (Transparent), and the plot more or less remained the same.
It would have made sense for Schwartzman to lean on his family for advice and financing, but as he sheepishly admitted, he hadn't told anyone in his extended clan other than his mother about the film until two weeks before shooting.
"I just like to try to figure it out; I'm not going to learn anything unless I just figure it out for myself," he explained. "Eventually my family started to learn about it and ask about it. My mom knew about it, and I eventually told [his brother] Jason about it, but my family who are filmmakers started to kind of pick up on this and were really sweet and supportive."
Shire and Jason Schwartzman both have supporting roles in the film, which is a May-December romance reminiscent of The Graduate, with stylistic flourishes that recall Wes Anderson (a close collaborator of both Jason Schwartzman and cousin Roman Coppola) filtered through a DSLR camera. Much of the narrative's weight falls on Simmons' shoulders, who himself is still new to the leading man game.
"You never really feel like you're finished," Simmons said. "I was sitting in an interview on camera and I still feel like I don't know who Monty is. Right after I watched the movie, I was like, I think this is a story about love, not pursuing your dreams. But then you go to Gene Wilder and read his memoir Kiss Me Like a Stranger and see his pursuit of love and art, and they go hand-in-hand."
Schwartzman said he welcomed opinions on set from all of his actors — including his mom, who had plenty of them.
"She'd always throw her opinion in, and 'I'd have to be like yo, it's all good, it's going to be OK,'" he laughed. "She'd do that anyway as a mom, there's a fine line. I feel close to actors because I was raised by one, and I love being around actors and I want to hear from everyone."