Blutch's 'Peplum': A French Graphic Novel Masterwork Comes To America
For the first time ever, one of the most acclaimed 'dessinateur illustrateurs' in European history is now available in English.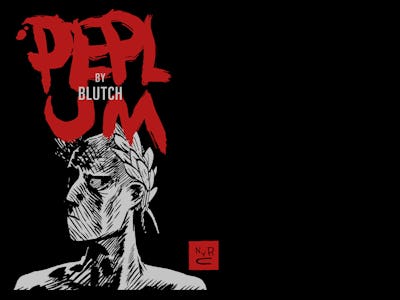 theparisreview.org
For anyone who considers himself a fan of graphic novels, one of the greatest illustrated stories in the history of the medium has finally arrived on American shores. Peplum, written and drawn by iconic French cartoonist Blutch, was originally released as a serialized story in 1996 and the critical response to the work was immediate. In the twenty years since its initial release, Blutch's sword-and-sandal epic has been praised as a landmark achievement for comics.
Like few artists and authors in his field, Blutch's stories manage to evoke a sense of raw emotion, which reaches beyond language barriers. His haunting art and beautifully spun narrative are an intoxicating mixture that you absolutely should not miss — if you're the kind of reader who loves a good story.
Wait, Who Is This Blutch Fella?
Blutch is the pseudonym of French cartoonist Christian Hincker, a guy who's been blowing up Europe's comic scene since 1988, when he joined Fluide Glacial as a contributor.
Unfortunately for Americans, Blutch's challenging work has been kept largely overseas. In fact, the New York Review Books' version of Peplum is only the second time that Blutch's work has been translated into English, despite his towering place in the European comics scene.
Blutch's inimitable style is marked with rough pen-and-pencil sketches which play with looming shadows, exaggerated features, and fearless ventures into the bizarre. Think of him as a kind of French R. Crumb.
Unlike Crumb's work, whose themes and imagery were based heavily in the here and now, Blutch has always managed to ingratiate a classical sensibility in his work, using images from the old world to dive into modern issues. Rarely has this talent been put to better use as it was in Peplum, the book that is typically called Blutch's masterpiece.
Okay, So What's Peplum About?
In 61 A.D., a fella named Petronius (there's some debate over his first name that I won't get into) wrote a story called the Satyricon that is largely omitted from the study of the Western classics like the Illiad, etc. because it is straight up Canterbury Tales.
That is to say that the Satyricon is a violent, sexual odyssey that celebrates the beauty of our mundane existence while glorifying the pulpier joys of humanity. Unfortunately, the Satyricon has been watered down or mishandled more often than not whenever an historian has gotten his hands on it. It's still important, though, because the Satyricon is a work of art in and of itself. It's a rare piece of Greek lit that features everyday life, incredibly violent battle scenes, and consensual homosexual love, all the while incorporating both prose, verse, and varying stylistic tones. Petronius dared to tell jokes and make poignant observations interchangeably.
Now, Blutch got his hands on this under-appreciated classical work and crafted a kind of sequel, turning the Satyricon into a brutal examination of love. After a "goddess" is found encased in ice, a lone soldier takes off with her and his "little brother" toward the capital city of Rome. As World Literature Today wrote, "we experience the protagonist's journey with two main loves: his found 'little brother' and his ideal love, a 'goddess' encased in ice. The former gives him a taste of what seeming unconditional, immediate love is, which he trades for the latter, an effigy of love."
On a more visceral note, there's also lots of sex and violence as the unlikely trio moves from misadventure to misadventure through a world that is a gorgeously chaotic fever dream.
Why Should I Be Excited?
Though Blutch has published two dozen books and counting at this point in his career, 1996's Peplum is still considered one of the artist's better works. At once heady and exciting, disorienting and unsettling, Peplum is a graphic novel that pumps on all cylinders. It's a rare book you can read as both shallow, strange adventure or Joycean artistic endeavor. It works beautifully as both.
And now, you can read it! This is huge, folks, both in terms of Peplum's individual contribution to the narrative form (praise be), but for its potential to open up American audiences to an entire literary scene, filled with inspired insanity.
If you've ever wanted to find a way to break into the European comics scene, Peplum is a great place to start. And, for the love of God, buy it so the New York Review Books has the money to bring us more work like it.