NASA's Space Apps Challenge Begins Today, Asks Average Humans to Build Solutions
The "hackathon" runs until April 24.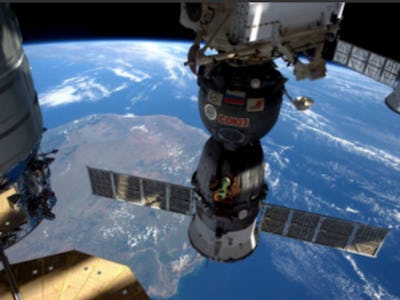 NASA
NASA's colossal hackathon, the Space Apps Challenge, kicks off today, and it's open to the masses (if you've already registered).
Around 163 locations in 71 countries are expected to host challenges; 30 are in U.S. cities. Of the 163 hosts, 99 are returning from previous years. As of this writing, 11,118 participants have signed up for the challenge. They can work in the areas of Technology, Aeronautics, the Space Station, Solar System, Earth, or Journey to Mars. Basically, teams have 48 hours (depending on the location) to build something cool that might be of use to NASA and their local communities. The challenge will last until April 24.
Beth Beck, NASA's Open Innovation program manager in the Office of the Chief Information Officer, has been program manager for the Space Apps Challenge since 2014, and she tells Inverse she's expecting this year to be bigger than last in every way.
"You don't have to be a coder, you don't have to be the expert," Beck says. "These teams need storytellers, they need video designers, you can't just have the app design by itself. So it's great because you can be an important part of this even if you don't code. A lot of the time the team members don't know each other, they just show up and gravitate toward like challenges and like interests, and they actually stay together [afterward] sometimes."
Projects submitted to the Space Apps Challenge have been, range-wise, anything between smartphone apps and robotic limbs or beyond. The idea is to use technology to solve a problem; a solution could come in the form of a live map that shows natural events happening around the world, or it could be an app that teaches farmers the right way to raise chickens.
Different locations will begin developing projects according to their own time zones, but in Pasadena, where everything will be live-streamed from the main stage, events begin at 9 a.m. PST. Each local host will decide for themselves what to live-stream. Many locations also got started early with a Boot Camp, a sort of mixer the night or week before where participants could get familiarized with what's ahead. Once participants show up today, they might be able to go up on stage and propose their idea to see who wants to join them, or maybe find tables marked with challenges underway they can join – it all depends on the location, "very organic and self-organized," according to Beck.
Boot Camp was actually introduced last year as a way to get more women involved. Women's underrepresentation in STEM fields is common knowledge, and what Beck and her colleagues found when they studied means of drawing more women to Space Apps was not that women preferred a certain topic over any other, but simply that they wanted to feel safer and more comfortable and more included. So Boot Camp was born as a way to introduce participants to each other ahead of the challenge and get people familiarized with the lingo and parameters of the next two days.
The hosts themselves don't come up with the individual challenge ideas – that's all up to the participants. Each location has a set of judges (local officials, not NASA employees), and they each have the opportunity to choose two global nominees as well as one People's Choice award. Once those teams are passed on to NASA, they'll be winnowed from around 600 down to 25. Those 25 teams will then be given to NASA executives who will choose the top five, and those are the global winners. The People's Choice award, meanwhile, will be narrowed from the initial pool to a field of more more than 25, which people can then vote on online.
Here's a video showing the 2015 Space Apps Challenge winner for Best Use of Hardware:
"Last year there were more than 156,000 votes," Beck said. "It was crazy. And we had to check, because they are hackers, you know? So of course they're going to hack their own vote, it's what they do. So we work to ensure that it's one vote per person per day, and that we're really getting that many votes, but of course we're not bulletproof. They can be quite creative."