Sexy Robots Aren't Sex Robots: How to Talk About Attractive Automatons
Step one: Accept that they're humanoid. Step two: Sexualize?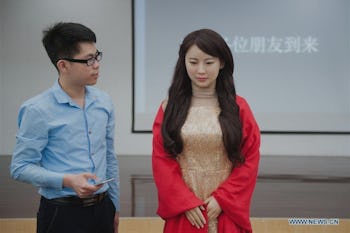 New China TV
The debut last week of JiaJia, the uncannily human "robot goddess" marked not only a milestone in robotics, but a low point in the increasingly awkward discussion about humanoid robots. Journalists seemed to be covering JiaJia from the cusp of puberty, awkwardly describing her long flowing hair and "eye-catching outfit," and describing her as "eerily realistic." News organizations both in China and the United States did almost everything in their power to avoid saying the obvious thing: JiaJia is physically attractive. This robot is sexually appealing.
Why didn't journalists feel more comfortable describing JiaJia in human terms? Partially because journalists outside of the lad mag game generally try to avoid objectifying their subjectives and partially because JiaJia is an object. The idea of the sexy robot isn't hard to grasp — Alicia Vikander's Ava in Ex Machina was hot, Gigolo Joe in A.I. was hot — but voicing that idea is culturally complicated. To describe JiaJia in sexual terms is to sexualize her human traits, which feels inappropriate even though they have nothing to do with her essence, which is a program and some hardware.
The funny thing about the awkwardness surrounding JiaJia is that it's a product of what is least sexy about her: She can't have sex. The burgeoning sex robot industry gets a fair amount of mainstream press coverage. Those articles feel less like they were written by 12-year-old boys refusing to go to the chalkboard. It's awkward to want to have sex with JiaJia because she lacks a sexuality. She is as sexually engaging as a toaster; she just looks better.
The problem with — and maybe it's a UX problem — is that she's humanoid and distinctly inhuman. She is climbing up out of the uncanny valley, but she's still puzzling to a society that isn't quite sure what to do with Lana Del Rey, who's climbing down. When we do comment on her soft brown eyes and pink lips and, yes, perky breasts, it still very much feels like we're sizing up a piece of machinery that wasn't built for that purpose. Our sexuality entirely fuels that interaction and the lopsidedness is uncomfortable.
Compounding the awkwardness is the fact that JiaJia is the product of a male-dominated field and was deliberately made "attractive" by her creators. JiaJia's creators programmed her to smile when men speak and refer to them as "Lord." Is that incredibly creepy? Absolutely, but the creepiness is not a product of human-robot sexual tension. Having sex with a robot isn't creepy. The creepiness is a product of the lack of overt sexuality on display. JiaJia is a masterpiece of sublimated sexual aggression.
And, intriguingly, JiaJia isn't exactly a beautiful sculpture so we can't look to corollaries in the art work. Her looks are a composite of features of five beautiful "image models" at the University of Science and Technology, where she was built. She's the precise average of beautiful.
So, how do we address this non-sex robot's sexiness? By admitting that it's just a resemblance. We are not attracted to the robot itself, but to the women the robot looks like. Is it okay to objectify the machine? Absolutely, it's an object. But the women that it resembles deserve to be treated with respect and mentioned whenever JiaJia's beauty becomes the subject at hand.