Sturgill Simpson's 'A Sailor's Guide to Earth' is Already the Best Country Album of 2016
The thoughtful Kentucky singer/songwriter more than follows up his auspicious 2014 debut.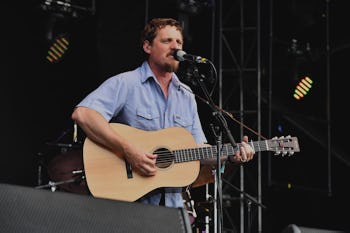 Theo Wargo/Getty Images for Firefly
A great deal of the best country-and-western music ever made features a great deal of exchange with other genre. The fiddle-heavy "Western swing" of acts like Bob Wills, Merle Travis, and, later, Willie Nelson borrowed heavily from jazz harmony and rhythms, while the classic "Nashville sound" which peaked in the '70s and '80s featured lush orchestral backgrounds and gestures toward full-on rock'n'roll. '70s pop and rock acts from Linda Ronstadt, Little Feat, to Leon Russell have appealingly straddled the line between so-called "Southern rock," L.A. pop, soul, and country.
The latter group of acts provides an apt precedent for the music on Sturgill Simpson's new album A Sailor's Guide to Earth, which finds the Kentucky-born singer/songwriter branching out stylistically from the clearer "outlaw" country stylings of his unexpected, idiosyncratic breakthrough album: 2014's Metamodern Sounds in Country and Western Music. The heavy, Stax-level horns, and richly textured orchestral arrangements on his new album are a few notches more complex and varied than those on Metamodern, making the briefer offering feel like a bold and welcome step forward for Simpson. In particular, "Keep it Between the Lines" — which exploits the funky chops Sharon Jones backing band The Dap-Kings — is a dead ringer for Little Feat, a C&W'n'B blend which relatively few bands have been able to strike.
Simpson's basic songwriting technique remains similar to Metamodern, finding its closest spiritual forefather in figures like Waylon Jennings and John Prine. His lyrics sometimes venture into cerebral territory, but always remain deadly sincere. In interview with GQ in January, Simpson specified that channeling grit, spontaneity, and something he likes to call "life-sauce" was of the utmost importance to him, in both songwriting and the recording process. On the short ride in a fast machine that is A Sailor's Guide to Earth — from the inspirational, expansive balladry of "All Around You," to the sleazy, Afghan Whigs-y shuffle of "Brace for Impact (Live a Little)," to delirious rocked-up Bakersfield-styled anthem "Call to Arms" — whatever that sounds like it is is more than there in every component part of these songs.
Could an album as original and polished as Simpson's could prove to be anything less than the country album of the year? It's hard to think of any other country albums, even from the past few years, that are working on its level. Its nine songs each actively reach beyond their imposed genre, though Simpson's throaty but lilting vocal cadences, and the modesty and clarity of his lyrics and songform, make his music feel comfortingly rooted in its past. With A Sailor's Guide, Simpson has managed to unite a variety of clear musical precedents into an extremely personal statement — one that will likely broaden his fan base.