Google's VR Film 'Pearl' Combines Disney Charm and Cutting Edge Tech
An Oscar-winning director worked with Google to make the film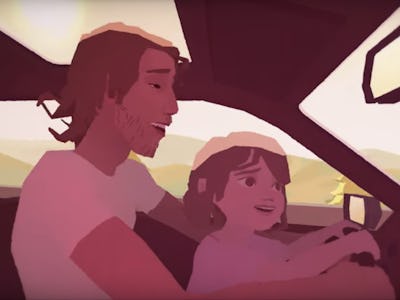 Soon after Patrick Osborne won an Oscar for directing Disney's adorable short film Feast, he left the animation studio to explore new types of filmmaking. One of the opportunities that came his way was a chance to team up with Google and its Advanced Technology and Projects (ATAP) division, and after a career of working in a 2D medium, he decided to make the leap — a full 360 degrees.
The result is Pearl, an animated musical short film that will soon be available on Google Cardboard (Inverse tried it at the Tribeca Film Festival on the HTC Vive). Much like Feast, it is a wordless film that tells the story of a relationship over a long period of time; in this case, it's a father and daughter, and the entire thing takes place inside of a car, as it travels across the country.
The daughter grows up and learns to play guitar like her musician father, who takes her from gig to gig as he tries, seemingly in vain, to become a rock star. They never state their names or give out any biographical info, but because the viewer is along for the ride — the camera is set in the front passenger seat — there is an instant sense of empathy. The defined, confined space also creates a true sense of immersion, even though it's a cartoon; there were times I wanted to stretch out and put my feet on the animated car's dash.
"I think you get an emotional connection with people by jumping and letting them fill in the gaps," Osborne told Inverse, noting that he believes 2D animation in particular is good at creating this sort of unwitting audience participation. "The gaps end up being their own life, their own experience. You fill in the gaps with the best; your brain puts the ideal version in between, and not a shitty computer version."
Pearl is styled much like Feast, in that it looks hand-drawn and has a painterly quality. It's a style that Osborne clearly embraces, and ATAP was able to adapt the tools he used at Disney to an interactive 360 video.
"The shaders have a crunchiness, it's a real-time version of what we were doing on Feast, to make it feel like it's a little bit hand-done and a little bit tactile," he said. "Other than that, it runs on a really primitive engine that can run on a cell phone or a powerhouse computer. Its called Moxi, it's Google's proprietary engine."
The big change for Osborne was adding the element of interactivity; suddenly, after spending his career creating one-way entertainment, his audience has some agency, and can determine the direction in which they want to look. In turn, Osborne and the Google team — a group of 12 animators working for four months — used the possibilities offered by the technology to seize some of that power back.
"Because it's animated, you make things happen in front of people," he explained. The world can turn. If it's in parts, like animation in VR, and you're looking this way, we can turn the entire world and characters to happen in front of you so you can see it. And that happens a few places. Depending on where you are and where you're looking at, it changes. It moves on the cut [to the next scene]. The one weird thing about it is the anxiety that you missed stuff, that's always there. It could happen behind you. People don't love that. You try to make so that the other shot isn't that interesting."
Osborne's in the midst of development on two major feature projects: a live-action adaptation of the graphic novel Battling Boy, as well as the animated film Nimona, also adapted from a graphic novel. But he'll be watching the VR space closely, and is open to making another 360 film.
"The reason I jumped into something like this is that it's creatively wide open. It's just artists trying to make something amazing," he said. "The opportunity to hire amazing artists and do quality stuff, whatever you want, it's super rare."