John Oliver Teams Up With Sesame Street to Explain Lead Threat on 'Last Week Tonight'
They know better than Congress.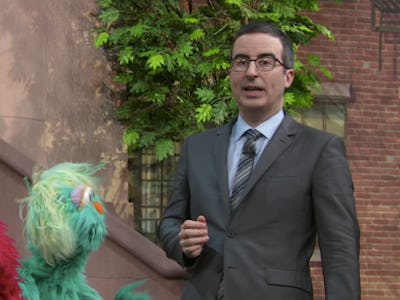 Last Week Tonight with John Oliver
Everyone knows that lead has created a crisis in the water in Flint, Michigan, but as John Oliver reminded us Sunday on Last Week Tonight, lead poisoning extends well beyond our water and remains a national crisis. An estimated 2.1 million households with a child under the age of 6 contain a lead hazard, leaving more than half a million children with elevated lead levels.
And it's not like this is anything new. Sesame Street created a video teaching kids how to avoid lead in 1996. But even as the nation's puppets have moved into action, Oliver recounts the inability of American lawmakers to fund programs to clean up our neighborhoods. Congress has only allocated about half of the minimum funding required to contain the threat posed by lead paint alone in the past decade, yielding $110 million annually, while complete eradication would cost $16.6 billion for ten years.
"Which is the kind of figure that turns the government into parents with a sick family dog." Oliver quips. "Hey, I know we said we'd do anything to make this better, but we just got an estimate from the vet, and do you know that in doggy heaven, every meal is hot dogs? Don't you think Bandit would like to go live there? I do."
It's not that we couldn't contain the dangers of lead, it's just that we don't want to badly enough. And Oliver even suggests that our unwillingness to act on the lead menace may be related to the concentration of lead poisoning in less affluent communities.
"You just have to have a vested interest in the outcome, and you'll be amazed what you can do," Oliver says, before launching into a verse of song with the Sesame Street characters who have joined him to help raise the kind of money not found in Elmo's piggy bank.
Lead is still all around us
Our pipes, our walls and our air
We should do more to contain it
But, first, we all have to care
Overall, Oliver stresses that it's important that crises like the one in Flint serve to remind us of the national scope of the problem. An entire generation is at risk, and while we've made progress over the past few decades, there's obviously still a lot of work to do.