Adrianne Haslet-Davis Takes on Boston Marathon With Running Blade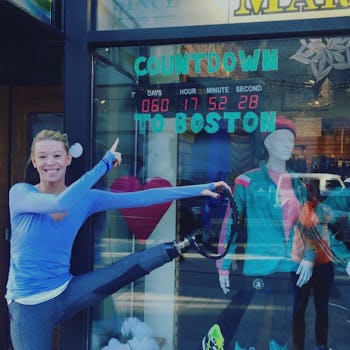 Adrianne Haslet-Davis; Twitter
Adrianne Haslet-Davis was watching her friends and neighbors near the finish line of the 2013 Boston Marathon when one of the two bombs planted just in front of the finish line exploded and took her leg. Today, Haslet-Davis returns to the finish line, but this time, she's expected to run across it. With a carbon-fiber blade tucked beneath her left knee, she plans to trounce past the scene of the bombings that took the lives of three people; to send the message that Boston bounces back.
The run will hardly be the first time that Haslet-Davis has proven her resilience. A professional dancer before the attack, she lost what many would consider the one indispensable tool of the art. But after only 200 days of recovery on a prosthetic leg designed specially for her at MIT's Media Labs, she was dancing the rumba on stage at a TED talk dedicated to curing disability with technology. The technology cost $250,000 and worked so well that Haslet-Davis recently attended a taping of Dancing with the Stars.
Haslet-Davis first acquired the blade she will wield for the marathon to help her dance, but, after some difficulties on the floor, she found a different use for it.
"I got my blade to do the jive, not to run. Yet I found that it was difficult to dance in, getting caught up in my parter's feet," she told Glamour. "It sat in my closet before I pulled it out one day and decided to give this running thing a try. I realized it was very difficult to use and I love a good challenge."
Haslet-Davis is dedicating her run to the Limbs for Life foundation, a nonprofit that works to provide much-needed prosthetics to amputees from around the world. The agency's mission coincides with what Haslet-Davis has made her own goal in life: Helping others who have undergone similar experiences. But that doesn't mean she is interested in hearing your theories on the Boston bombings.
"You wouldn't believe the number of people that come up to me and just start talking about it without even saying hello," she said. "Not crazies, but so many people, from all ages and backgrounds. I understand and respect that everyone has their opinion, yet I also want others to understand that no one knows what mental state the other is in."
With the race right around the corner, Haslet-Davis has her mind on the finish line as well, or at least, what's just beyond it. "Hopefully a lot of celebratory [tears] as well as sad tears, a cold Sam Adams, and a giant pizza! Or two!"
Be sure to watch for Haslet-Davis when the race commences Monday morning. She'll be the one driving the crowds wild.
Here's Haslet-Davis pre-race:
Update: Haslet-Davis has encountered a "leg issue" but is on the phone with her pit crew:
Here's Haslet-Davis at Mile 15, with the hashtag, "#notgoingfortime."