Watch the Coachella Live Stream Here: It's Lit
The biggest festival of the year, featuring performances by Guns N' Roses and LCD Soundsystem,  is streaming all weekend.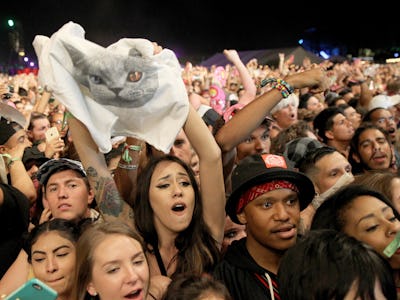 Karl Walter / Getty
Coachella, the music festival that takes place annually in Indio, California, grew from humble beginnings to arguably the biggest music event in the world. A few years back, demand became so great that the Coachella added a second weekend, one boasting the same bill as the first.
Today, the 2016 festival begins, and festival founders Goldenvoice will be streaming much of the proceedings via YouTube, as they've done for several years now. Since Coachella hosts multiple stages, they've got three feeds going.
The official streaming schedule has not yet appeared, but we will update the post once the show begins. (Update: The entire streaming schedule has been posted to the official YouTube channel). (Coachella has announced set times, though, but not every set is streaming). Given that Indio is kind of a haul, it's the next best thing to actually being at the chaotic festival grounds, to the point where the free streaming elements probably makes for pretty damn good marketing.
Watch the feeds below. This year's Coachella includes Guns N' Roses, LCD Soundsystem, Calvin Harris, Ice Cube, Ellie Goulding, Sufjan Stevens, A$AP Rocky, the 1975, Sia, CHVRCHES, Beach House, Major Lazer, Zedd, Halsey and many more.
Here's the Weekend 1 Coachella Schedule for Friday:
Here's the Weekend 1 Coachella Schedule for Saturday:
Here's the Weekend 1 Coachella Schedule for Sunday: