After Seeing Anton Yelchin in 'Green Room', Watch These 5 Punk Rock Movies 
Director Jeremy Saulnier's newest movie is the latest -- and most unique -- take on punk music on film. Here are some others.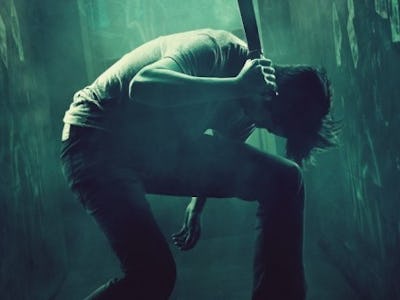 Facebook / GreenRoomMovie
Writer and director Jeremy Saulnier's punk thriller Green Groom shreds into select theaters in New York and Los Angeles on Friday, traveling nationwide on April 29. the story follows a group of down-on-their-luck punks, led by actor Anton Yelchin, who discover a dead body in the green room after a show in a secluded venue run by neo-Nazis. The film is among the most harrowing works released in recent memory.
Green Room is probably unlike anything you've ever seen, because it pulls from a wide variety of influences. Part of the reason it succeeds is Saulnier's razor sharp direction, which uses the thrusting, anarchic power of punk music to tell its brutal story. Here are some other punk movies so you can let out your aggression after Green Room.
5. A Band Called Death
The 2012 documentary A Band Called Death joined a recent spate of great punk-focused docs that celebrated the influential, and sometimes-overlooked figures in the genre. A mix between The Punk Singer — which charts the singular rise of feminist frontwoman Kathleen Hanna in bands like Bikini Kill and Le Tigre — and American Hardcore, which is a broad overview of the nascent punk genre's growing pains in the late 1970s, A Band Called Death uses punk music as its backbone.
A Band Called Death is specifically about what was arguably the first punk band ever, Death, which formed in 1971 and featured a trio of brothers (Bobby, Dannis, and David Hackney) from Detroit who recorded a fierce brand of politically-tinged rock music that defied categorization. Largely ignored until the documentary was released, it took three decades before the band's music was widely available and the brothers acknowledged among the forefathers of punk.
4. Jubilee
You don't get much more punk than Derek Jarman, but unfortunately, he didn't play in any punk bands. Instead the filmmaker made a series of challenging, unruly, and idiosyncratic movies that embodied the spirit of the music while the genre was just catching on. Nowhere is this more evident than in his 1978 cult classic, Jubilee, about England's Queen Elizabeth I being transported 400 years in the future to see what her kingdom will look like, centuries from her own time. What she finds in Jarmans grainy, satirical, and semi-post-apocalyptic view of England is an experimental episodic riot of music, politics, history, and pure anger.
It even features some actual punk pioneers like Siouxsie Sioux, The Slits, Wayne County, and a score by Brian Eno. The movie was so controversial among punks that punk designer Vivienne Westwood created a t-shirt with a screen-printed message addressed to Jarman that dasaid Jubilee was "an irresponsible movie. Don't remember punk this way."
If even the punks hate you, you know you're doing something right.
3. Ladies and Gentlemen, the Fabulous Stains
Yes, Ladies and Gentlemen, the Fabulous Stains is a studio movie directed by music business tycoon Lou Adler that also features a murderer's row of eventual movie stars like Diane Lane, Laura Dern, Christine Lahti, Ray Winstone, Elizabeth Daily, and Brent Spiner. But it's also a punk classic about a female musician (Lane) who achieves overnight fame by pulling droves of similar disaffected youths to her anarchic cause of making as much noise as possible in her band, The Stains. Ironically, the band is labelled corporate sell outs by their gig-mates, The Looters — featuring former members of The Clash and the Sex Pistols — after they become headliners of a big tour, betraying their no-nonsense method. It's the grandmother of other female-empowered punk films like 2013's We Are the Best! and more.
2. The Decline of Western Civilization
While movies like The Great Rock 'n' Roll Swindle or Rock 'n' Roll High School featured bands like the Sex Pistols and the Ramones, only The Decline of Western Civilization documented them. Director Penelope Spheeris is like the patron saint of putting punk on-screen, with subsequent films like Suburbia and Dudes fictionalizing the punk aesthetic. But Decline is a watershed documentary that captures a handful of LA punk acts — like Black Flag, Germs, X, Alice Bag Band, Catholic Discipline, and Fear — just as the scene began to break in the late 1970s. Certain parts are racist, sexist, and homophobic, but Spheeris's camera is meant to be as objective as possible by showing what transpired — as it was.
1. Repo Man
Perhaps the only other filmmaker that could match Penelope Spheeris' punk prowess is British filmmaker Alex Cox, whose own filmography is filled with movies that adopt punk ideals and intellectualize them in a way that doesn't betray the spirit of the scene. Cox's movie like Sid & Nancy, Straight to Hell, and even Walker are punk classics, but none beats what is perhaps his most well-known film: Repo Man. It's the story of a middle-class teenage punk loser named Otto Maddox (Emilio Estevez) who takes a job repossessing cars with a man named Bud (Harry Dean Stanton), and soon, the boys find themselves embroiled in a weird plot that involves aliens and an extraterrestrial Chevy Malibu.
Underneath all of the sci-fi comedy (and the killer punk soundtrack), lies a commentary about the malaise of Reagan-era politics, including domestic and foreign policy. When asked about what it all meant, Cox said, "Nuclear War. Of course. What else could it be about? And the demented society that contemplated the possibility thereof."