How Science Consultants Make 'Agent Carter' Look And Sound Scientifically Accurate
Meet Clifford Johnson, the man who brings some real-world science to the world of Peggy Carter.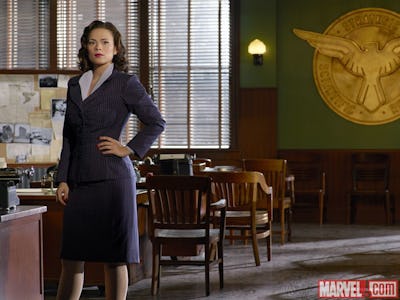 Marvel.com
Science fiction is often pulling double-duty. Not only are writers trying to create compelling and three-dimensional narratives, but they're also trying to make sure that their episodes don't become Mythbusters fodder (R.I.P.). Fortunately, there's an entire database of experts ready to help Hollywood's writers tackle the science so that they can focus on the story.
A video released today from Great Big Story takes us behind the scenes of ABC and Marvel's Agent Carter to inspect one important aspect of science-y film and television that is often overlooked: The consultants who help the project's creative team inject some real-world science into their fictional realities.
When Agent Carter co-producer Wendy Willming found herself with a scientist character (Jason Wilkes, played by Reggie Austin) who needed to deliver convincingly science-y lines, she needed an expert. So, she got in touch with Rick Loverd, program director of the Science & Entertainment Exchange, which is part of the National Academy of Sciences, and essentially, the resource for science consultants in Hollywood.
Loverd keeps database of thousands of great minds in science and engineering, and when Hollywood has a question about things — like how strong Spider-Man's web is or the components needed to make a bomb — they call the Science & Entertainment Exchange.
In Agent Carter's case, that scientist was Clifford Johnson, a physics professor at the University of Southern California who helps the team that brings Peggy Carter to life fold some IRL science into the TV MCU. Whether it's giving Willming a quick primer on atomic bombs or helping draft some appropriately science-y lines for Wilkes, Johnson is the bridge between science and fiction.
We spoke to Loverd a few weeks ago about what the Exchange does and why it exists. "Our mission is effectively to inspire more and better science in feature films, TV shows and video games," he said. "Our philosophy is one of inspiration. We're not trying to go in and fact check every detail in a film or video game…we're just trying to get them excited about what the real science is and expose them to the best communicators that the science and engineering community has to offer."
We also spoke to science consultant, physics professor and author of The Physics of Superheroes James Kakalios, who said that a big part of science consulting is not to shoe-horn a narrative into scientific accuracy, but to add some real-world science to sci fi, and ensure that the audience is asking the right questions.
"They're trying to create a believable fake reality," said Kakalios. "Because they know that any moment when the audience is saying, 'That's not what a science lab really looks like,' or 'That's not the way a physicist would react,' or 'That's not the way this is done,' is a moment when they're not paying attention to the story."
Enlisting the help of science consultants for projects in Hollywood isn't necessarily about fact-checking — or even accuracy. Instead, it's about using the expertise of the scientists in the Loverd's database to give Hollywood the tools they need to bring some of the science of the real world into the worlds that they create.