Toyota uBox Car of the Future Is Designed to Self-Drive Around Gen Zers
A car that only drives is like a phone that only calls.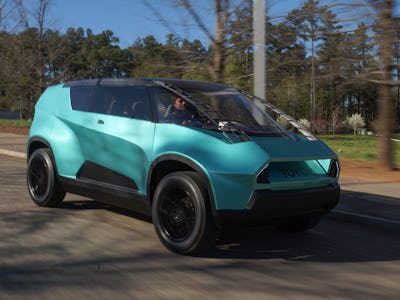 Clemson University International Center for Automotive Research (CU-ICAR)/Toyota uBox Concept
The older brands sometimes struggle to gauge the styles of the future, so to gather some insight on its youngest consumers, Toyota contacted a team of student engineers at Clemson University to design a car that would appeal to Generation Z. The car the team designed embraces interior space and customization, transforming the vehicle into a robust mobile pod that could power an on-the-grid lifestyle.
The project required the students to examine the lifestyle trends of the rising generation and predict the features those tech-obsessed kids will seek when they start buying cars. The prototype places comfort and convenience as high as actual driving on the list of a vehicle's priorities, and given the rise of autonomous driving and control systems, this bet may be even smarter than it seems.
We have now crossed a threshold where people are no longer happy imagining autonomous driving – they are growing to expect it. Cars that don't drive themselves have to look like they will sometime soon, and on this measure, the not-well-named uBox electric car stands out from current models. Vehicles are becoming rooms on wheels, and the uBox designers predict that future owners will want to have as much control over the space as they do their own homes.
The sloping windshield links with a bulky posterior to create the impression of a Smart Car tank. It's flashy with a European set of curves and contours but durable like American cars should be. With a hint of "look at me" bravado, the vehicle caters to the arrogance of a self-important "selfie" generation but with a modesty that says "This could have been so much worse." The major mistake of the design are the two carbon fiber pultrusions that the windshield needed for support but look out of place, like scaffolding.
The car's interior is also appreciably innovative. In a potential first, the vents, dashboard display bezels, and door trim are all designed to be replaced with personalized, 3D-printed parts. The seating easily reconfigures to permit working or sleeping right out of the back of the car. And a profusion of electrical sockets answer the prayers of every generation that has sat on a long road trip with a dying phone whispering GPS directions.
A car meant only for driving. How passé. The uBox concept predicts the question that Generation Z consumers will ask next is, "What else can it do?" A car that holds their stuff, charges their devices, and can function as a vehicle for entertainment as much as travel. A+ to the Clemson students that designed it. Now, can someone please give them jobs?