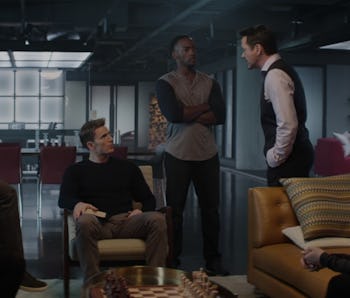 Entertainment
How Much Are Vision's Sweater and Clothes In This 'Captain America: Civil War' Clip?
The Vibranium-based android Avenger is looking sleek in some comfortable menswear, and you can dress just like him.
YouTube / ComicBook
A bunch of new clips from Captain America: Civil War have found their way online ahead of the film's release on May 6. The one below, entitled "Right To Choose," depicts a handful of the Avengers assembled, just kicking back and talking about what it's like to be the superhuman protectors of the planet. We've got Captain America talking about honor, duty, and responsibility. We've got Tony Stark, Cap's new foe for the time being, offering some acid-tongued retorts about the so-called Sokovia Accords. Everybody else is sitting around pondering which side to take, and it's all very serious stuff. But wait a second. Is Vision wearing a goddamn sweater, button-up, and slacks ensemble?
Yes, it appears the J.A.R.V.I.S.-based life form created by Tony Stark has decided to do away with the cape and grey spandex he was rocking in Avengers: Age of Ultron for some business casual duds. It's quite possibly a little homage to the current eponymous comic book run for Marvel written by Tom King where the purple superhero creates a family for himself, moves to the suburbs of Washington D.C., and dresses like the most regular dad you've ever seen.
Here's one blurry angle from the trailer:
Here's another look as casual Vision:
Here's the comics version:
He's looking sharp, but what does it cost to dress like the newest member of the Avengers? Sure, the synthetic Vibranium-based humanoid can create clothes for himself at will, but you'll want to dress for success like him — especially if dressing for success means you're part of the Earth's premiere superhero team.
Let's get down to business.
Do you want to dress like the most fashionable android on the planet? It'll only set you back $480.95. Wear your new threads to the theater when Captain America: Civil War is released on May 6.