Dog Parker Rents You a Place to House Your Hound While You Grab a Starbucks
The company just took first place at a startup competition. Here's why.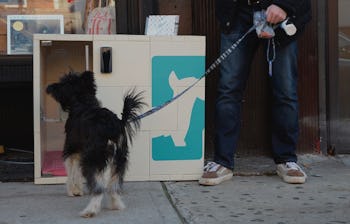 Dog Parker Facebook page
Nearly every dog owner has faced the ordeal of having to tie their pooch up to a fixed object outside so they, the coffee-loving human, can duck in for a quick latte. This causes anxiety for both parties. Luckily, this common inconvenience, in a day and age of startups popping out of the ground in every direction to foist solutions to problems none of us thought we had, is getting the high-tech solution it deserves.
Dog Parker, the brain child of a pair of New York City entrepreneurs, is basically an on-demand, pay-by-the-minute doghouse that sits outside of storefronts and allows customers to stow away their furry children neatly and quietly so they can run into a pet-free building for a short bit and take care of whatever business they need to. Modeled after a car-sharing service like ZipCar, Dog Parker is being pitched by co-founder Chelsea Brownridge as "faster and safer to use … than tying your dog to a pole."
The company has been getting a lot of notoriety as of late and it's culminated in a first place finish at the Frontier Tech Startup Showdown competition at this year's RoboUniverse 2016 conference in New York City. On Tuesday, Dog Parker beat out seven other startups and ran home with $15,000 in prize winnings, along with a conference full of new potential customers.
Dog Parker works like this: the company works to get one of its $550 dog houses placed in front of certain stores in your neighborhood. Pet owners can sign up to be members of Dog Parker (at $25 a year for each dog they own) and will have access to any of these dog houses around the city in which they live. All dogs must be up-to-date on their vaccinations and at least four months old.
When you're ambling around Williamsburg and want to stop by your favorite artisanal doughnut shop but can't bring your dog inside, you just use your access to open up a doghouse (or reserve it ahead of time) and pop the little bugger in for $0.20 a minute. With an average stop lasting about 10 minutes, you're only in the hole about a couple bucks.
Each house is equipped with a webcam to allow Dog Parker to monitor your pet and make sure they're doing okay. The houses have fans to keep things inside cool during hot days, and are insulated to protect from the cold during the winter.
Brownridge and her partners estimate a yearly revenue of about $6,200 for each house and that's no surprise considering how many people have pets in major cities around country. The company launched a prototype in Brooklyn last October, and they expect to put out about 100 Dog Parker houses by the end of June to coincide with its pilot program in Manhattan.