Marvel Studios Pushes Back Inhumans Movie
The Inhumans film has been pushed back from its revised 2019 release date to an undisclosed time.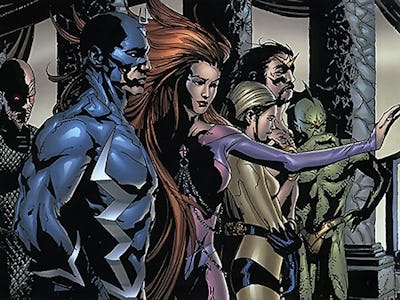 Marvel Comics
Kevin Feige, producer and overseer of the Marvel Cinematic Universe, is now telling the press that the Inhumans movie will be delayed.
Originally announced back in 2014 for a 2019 release, Inhumans has been at the center of a scheduling shuffle since Marvel's recent film developments. First, there's the new Spider-Man film which was a surprise acquisition — and happened months after the initial reveal of Phase Three, when Inhumans was originally announced. Then came the revelation that Ant-Man would be getting a sequel in Ant-Man and the Wasp. These films, and a few minor reasons Feige listed, has led to Inhumans delay.
The schedule shift makes sense in a lot of ways. Spider-man is an insanely popular character and Marvel is surely eager to capitalize on the webslinger's return home, even including him in the action as early as next month's Captain America: Civil War. Inhumans, by contrast, is a relative unknown and looked upon with suspicion among some comic circles as a contrived X-Men replacement. In addition, there is also the confusing use of the Inhumans in the Marvel's Agents of S.H.I.E.L.D. television show, which Marvel Studios says will not be connected to the film proper.
In fact, Marvel's TV and film studios, which are overseen by different parties, have long held a certain animosity about crossing over. While Agents of S.H.I.E.L.D often uses the films as a way to set up big event episodes, the shows might not as well exist — as far the films are concerned. This has led to the show's use of Inhumans as a source of some contention between the two Marvel production arms, and makes Inhumans, an already shaky proposition to begin with, even more vulnerable to the ever growing changes to the MCU.
Despite all this, Feige insists that the Inhumans film is merely delayed and in no way cancelled.