New Behind-The-Scenes Look At 'Valerian' Finds Cara Delevingne In Full Sci-Fi Heroine Mode
The film adaptation of 'Valerian and Laureline' promises some major ass-kicking.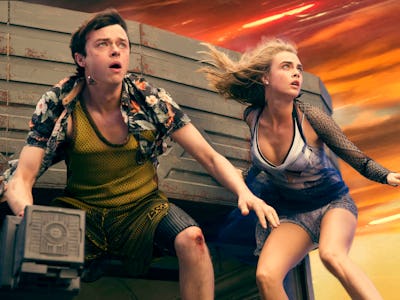 EuropaCorp
Last night during the MTV Movie Awards pre-show, MTV premiered a behind-the-scenes look Valerian and the City of a Thousand Planets, a new film from Luc Besson, based on the graphic novel series Valerian and Laureline.
The film follows Valerian (Dane DeHaan) and Laureline (Cara Delevingne) as they set out on a mission from the Commander (Clive Owen) of the government agency where they both work. Sent to Alpha, a massive city teeming with alien life, Valerian and Laureline discover that there's more to Alpha than meets the eye, and that what lies beneath may pose a serious threat to humanity.
Considered to be highly influential on the likes of Star Wars, Valerian is some of sci-fi's richest source material, and it's coming to us in 2017 from Besson, the man behind The Fifth Element (and also Lucy).
In the behind-the-scenes video from MTV, Josh Horowitz joins Delevingne, DeHaan and Besson to talk about the film's origins, the characters and the world they inhabit. And apparently, the world of Valerian is pretty hush-hush — MTV was the only film crew allowed on set for this behind- the-curtain look. The reason?
In Delevingne's words, "Because this is going to be the best movie of all time. It's got to be a secret."
Early glimpses suggest that Delevingne's every bit the badass heroine we might expect from a Besson adaptation of Valerian. After all, Delevingne's Laureline isn't the first Besson heroine — The Fifth Element's Leeloo remains one of sci-fi's most iconic heroines. So will there be ass-kicking? Oh, definitely — and Delevingne's all about it. There's also going to be some Rihanna, though the cast was decidedly tight-lipped about her role.
Though it's still very early days, the first look shows off some damn cool costumes, elaborate sets and plenty of action. Delevingne's promise for the audience? "Every particle of their body will be blown away."
Valerian and the City of a Thousand Planets is set for release on July 21, 2017.