Watch Sam, the English Space-Faring Toy Dog, Balloon-Ride From Earth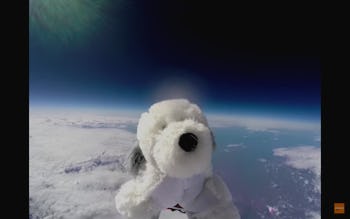 Storyful News; Youtube
We may have lost another brave space pioneer. Sam the toy dog has now been missing for three days. Ever since the balloon carrying Sam popped 15 miles in the air, the students from Morecambe Bay Primary School in northwest England who sent him up have been unable to pinpoint his location.
Sam had an incredible ride up into the stratosphere. Posing in the foreground of a camera attached to a helium balloon, Sam's plastic eyes watched as the clouds parted and the curvature of the Earth came into view. The students on the ground were even able to track Sam's location using a GPS device attached to the flying contraption. Tragically, once the balloon popped, Sam broke off from the rest of the device, leaving the toy dog to plummet back to Earth all on its own.
The students quickly located the camera, still attached to the GPS device, and have uploaded the footage online, but Sam remains missing. Experts estimate that based on Sam's height when he broke from the device, he could be anywhere in an almost 50-mile radius of the launch point. That's an enormous area to locate a single missing toy dog, but the students are nonetheless out there searching.
Students are urging anyone with information on Sam's whereabouts to call English Lakes Hotels Resorts & Venues (01539 433773) or contact BBC Lancashire. The local Midlands Hotel is even offering a free night's stay to whoever discovers the missing pooch.
We sincerely hope Sam turns up. All brave pioneers deserve their victory parade. If not, though, the video of his trip is a pretty awesome memorial.