Jon Daly and Adam Scott's Adult Swim Golf Classic: Comedians Sucking at Golf
The comedians are two of the worst golfers you'll ever see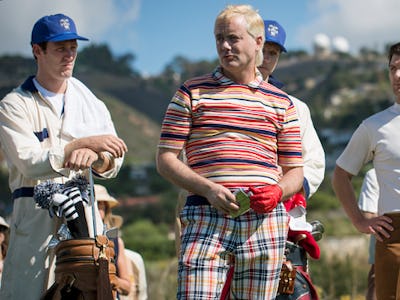 Adult Swim
After spending the early part of his life in the considerable shadow of the larger-than-life pro golfer John Daly, comedian and writer Jon Daly decided that if he couldn't beat the long-drive champion, he'd become him.
On Friday, Daly will play Daly in a new special on Adult Swim, marking the latest stage in a tongue-in-cheek transformation that began a few years ago. The comedian, now known for his work on Comedy Central's Kroll Show, started a website called JonDalyIsJohnDaly.com. The decidedly lo-fi site featured images of the comedian as the larger-than-life golfer. "It was way of taking back my search engine optimization and getting my Google search to pop up first," Daly explains, noting that the pictures were just convincing (and disconcerting) enough that people felt compelled to click and examine them upon their surfacing in Google Image search results.
"I wanted to have pictures of me be clicked on and people to go wait, what is happening, this isn't John Daly?" he says. "And they had to figure it out."
The next layer of his Daly takeover play began to unfold in 2013, when he was on the set of Ben Stiller's big screen adaptation of The Secret Life of Walter Mitty. There he met Adam Scott, the Parks and Recreation actor who had found himself in a similar golfer-related conundrum. After years of climbing the PGA ranks, an Australian pro named Adam Scott burst into the public consciousness with an historic win at the Masters. Suddenly, the golfer was the buzzier Adam Scott, even though the actor had been working in Hollywood for over a decade.
Daly pitched him a bizarre idea: A TV special in which they play the golfers with whom they share their names. Scott was on board from the start, and the pair found an obvious home at Adult Swim, where Scott has produced several high-concept one-offs. The show will air on Friday at 11:30 pm, a perfect wind-down from the second day of The Masters.
"[Adult Swim exec] Mike Lazzo is a huge golf fan, and his input really pushed it in this golf direction," Daly says. "We're very accurate, true to what golf was like in the 1960s. There's a lot of jokes for just golfers."
The accuracy is part of the joke, because it's absolutely absurd for it to be set back in the '60s — Daly (the golfer) was just a small child back then, while Scott (the golfer) wasn't even alive until 1980. But it was a prime time for televised, head-to-head matchups on the links, and the Adult Swim crew made sure to carefully ape each and every trope found in those old broadcasts, from cigarette sponsorship to rambling broadcasters following the golfers throughout the match.
"The '60s for golf was just a really magical time where the pauses were long and nobody ever seemed like they were having that much fun," Daly explains. "It's so formal and there's so much focus on ceremony and how it's a gentleman's game and all that stuff. So many handshakes, just little rules that only they know."
Those placid, traditional matches were entertaining only because the participants were good at golf; the Adult Swim Classic, meanwhile, is at its most entertaining when Daly and Scott show off just how terrible they are at the sport. While they played real golfers (Daly even bleached his hair), they made no real effort, through body doubles or visual effects, to emulate their talent.
Not that they weren't trying their best on the course.
"We were playing for real charities; everything was real," he promises. "The only way to make this feel like we're playing real golf is to actually try to play each other, the only way to get that feeling. We started off with some competitive feelings on set. I wanted to take him down. A lot of that shit talking on the course is real. We're legitimately that bad at golf. And Adam is newer to golf than me, and on his first hole, he managed to par his first hole. I was like is this guy trying to shark me? Is he a hustler?"
It soon became clear that Scott's early success was pure luck. He has a different grip just about every time he takes a whack at the ball during the special, and when putting, dangles the club like he's playing pool with a pendulum. But he still fared better than Daly, who whacked the ball in seemingly impossible directions, and wound up wading into a lake in pseudo-frustration. But no matter how poorly he played, he had to maintain the ease of the boozy, affable John Daly, in order to preserve the twisted authenticity of the program.
"They didn't even say the word pregnant on TV in the '60s," Daly noted. "It was so conservative in that climate that if we did get crazy it would kinda ruin the reality. So it's the golden, amber moment of seeing history. You want it to feel like history so you can be as dumb as you possibly can."
One of the more tongue-in-cheek anachronisms that is played for authenticity is the nearly five minute promo for Trump National Golf Course, where the Daly-Scott matchup was played, at the beginning of the program. Donald Trump was just a college-aged son of New York City slumlord in 1966, not a brand peddler who has licensed his name to golf clubs across the world.
"We shot at Trump National back when that was still funny," Daly explains, as a sort of mea culpa. "Now the whole thing feels a bit evil, because the first five minutes is basically a commercial for Donald Trump's golf course. But you know what, he's got some tremendous course, some of the best courses internationally in the entire world. That's not a joke."
From his tone, it was clear that Daly wasn't lying, but only semi-serious, leaving it up to the listener to parse out the facts. That's just his style.
The Adult Swim Golf Classic airs at 11:30 pm on Friday, April 8.