Watch David Domingo Jimenez Build His Army of Neon Robots
We spoke with the Spanish CG creator about his growing robot army, and why he doesn't like science fiction.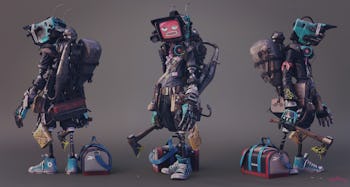 Searching the internet for memorable, independently made concept art can yield a ton of great stuff. Spain's David Domingo Jimenez is one of Reddit's favorite CG artists. I got in touch with him via email, and he graciously explained his gorgeous, dangerous-looking robots to me.
Jimenez is full of surprises, too. He loves anime and doesn't consider himself a fan of contemporary science fiction.
Your robot characters have such personality! Why did you decide to give them such expressive faces?
The inspiration comes from an anime called FLCL. I aimed for that idea, and that visual style, designing "retro TV headed" characters with anime face-drawings on them, partly in reference to the anime, and partly because I do love that look.
About the rest of the design, I'm a bit tired of seeing super complex robots with thousands of tiny parts. I wanted to make mine look more human.
What kind of world do you imagine your robots living in?
The point is to create an alternate history where robots live in the present time, but there are no humans, and nobody knows when or what happened with them. It's a world with the same up and downs like ours, good and evil, social class and hierarchy.
The robot with the pink face, titled "Crazy", is fascinating. He's carrying an axe and is wearing a pair of Beats. What kind of guy is he? What was he designed for?
Crazy! His name says it all, he is actually meant to be crazy. He might be a wild and edgy teenager who just collects pop culture stuff. He is anti-social and aggressive. Let's just say he is a robot killer psycho.
I love your use of neon colors in a futuristic environment. I feel like a lot of sci-fi art is so grey and drab. How do you feel about science fiction films and games right now? Are you a fan of anything in particular?
I'm not a sci-fi fan actually, but I'm attracted to certain elements of it. I do like films and video games, but I especially love films that rely mostly in colors. Movies like Blade Runner, even though they have a largely grey-scale environment, show lots of colors. The film Metrópolis has a similar mood, but in my work, I'm paying special attention to color, to make everything appear fresh.