"Hubble Hugger" Grunsfeld Retires: Who Will Be NASA's New Science Chief?
It's hard to pick from the best and the brightest.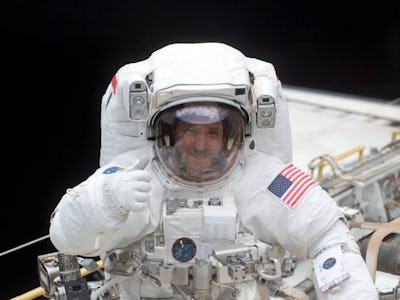 NASA
Astronaut John Grunsfeld, known to the world as the Hubble Space Telescope (HST) repairman after completing a series of dramatic missions to the probe between 1999 and 2009, announced that he will be retiring at the end of the month from his post as NASA Science Chief – and just before the launch of the James Webb Space Telescope in October 2018. The sudden vacancy at one of the most important NASA divisions presents a startling challenge to the space agency, but luckily in this case, the farm team truly is out of this world.
The Science Chief, or Associate Administrator for NASA's Science Mission Directorate, oversees a $5 billion annual budget to direct of all space research conducted by the space agency. It's a massive job that goes well beyond the dictates of the everyday astronaut, and Grunsfeld was uniquely suited to do it.
Not only would Grunsfeld spend almost 60 days in space as part of various missions, but he also possessed a Doctor of Philosophy in physics from the University of Chicago. Grunsfeld entered NASA with the astronaut class of 1992 and flew five Space Shuttle missions, including three that included repairs to the HST. The "Hubble Hugger," as he is also known, was the last human to touch the HST, following his repairs to the telescope on a spacewalk in 2009.
NASA will likely try to find an equally qualified replacement, but even for a agency used to accomplishing the unimaginable, filling the position might be harder than it would like. Grunsfeld is the kind of person that, even after a career as physicist, astronaut, space telescope repairman, and even NASA science chief, believes he still has one last frontier to conquer.
"After exploring strange new worlds and seeking out new life in the universe, I can now boldly go where I've rarely gone before – home," Grunsfeld told Universe Today.
The high-profile retirement leaves a coveted job up for grabs at NASA, and as of now, it's anyone's guess who will receive the anointment.
Dr. Peggy Whitson
With a Ph.D. in biochemistry, over 376 days in space, and major leadership experience as NASA's Chief Astronaut, Whitson must be a leading candidate for the Science Chief position. Even as the James Webb Telescope is set to launch, the International Space Station remains one of the most pressing research priorities for NASA, and few people know it as well as Whitson does. She has completed two long-term missions aboard the ISS, earning NASA's first-ever appointment as Science Officer during her first stay, and becoming the first woman commander of the space shuttle in her second. She has been a pioneer for scientists and women in particular. While a biochemistry background may be untraditional for a NASA head, with all the focus on searching for life on Mars, she may just be who the future calls for.
Dr. Franklin Chang Díaz
Another astronaut Hall of Famer with a Ph.D. in physics, Chang Díaz would have to give up a comfortable career leading a rocket propulsion company and teaching at Rice University, but the opportunity to direct NASA's research budget may just offer the necessary appeal. He flew on more Space Shuttle missions than any other astronaut – seven. And his focus in applied plasma physics fits into NASA's overall mission of finding creative ways to push deeper into space. Chang Díaz's Variable Specific Impulse Magnetoplasma Rocket may be the key to interplanetary travel, in which case NASA would definitely benefit from having the mastermind under its roof.
Scott (or Mark) Kelly
Clearly, fans of the space program would love to see at least one of their favorite twin duo return to NASA, but despite each of their record-breaking achievements, they'll both need to do their homework to earn this position. The twins both come out of the military division of NASA astronauts, rather than the science division, having each earned wings as Naval aviators before making the jump to space flight. Nonetheless, both of the Kellys have been incredible advocates for space research, and the space program more broadly, over their respective tenures, helping to bring NASA's mission to a new generation of enthusiasts. Scott, in particular, just announced his retirement from the astronaut corps, so he may be just ready for a new job at NASA — after he writes his book about his year in space, of course.