Meek Mill Reportedly Records 'Summer Sixteen' Remix, But Why?
Why is the never-ending Meek Mill vs. Drake beef still going?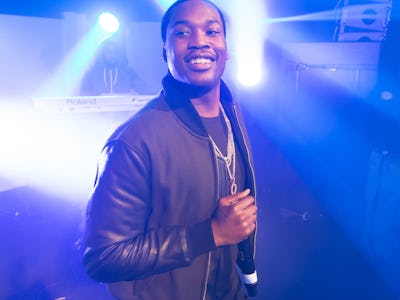 Marcus Ingram/Getty Images for Bacardi
Does Meek Mill have problems letting go?
Three months after the release of Drake's "Summer Sixteen," snippets of Meek Mill's alleged remix to the song have leaked. But why?
Why is Meek remixing a song that came out in January? Why is he remixing a song by Drake, keeping the feud going? Why keep the feud with Drake going at all? I have many questions.
Going off the parts that have leaked, there's no mention of Drake, but then again, who names names anymore? (Kendrick Lamar's "Control" may be the most talked about and most recent example. Oh, you thought you wouldn't hear mention of "Control" in 2016?) Meek Mill's lyrics aren't too audible in one of the two snippets leaked — you can barely make out him rapping about riding around in Philly with a bullet proof vest — but do you really need to know what he's rapping about?
There seems to still be tension between Drake and Meek Mill, close to a year after Meek Mill publicly claimed that Drake "don't write his own raps!" On top of Meek Mill's "Summer Sixteen" snippets — more than likely not released as a full-length song because the Court prohibited the rapper to record or perform while under house arrest — rapper/songwriter Quentin Miller (who Meek Mill claimed wrote the majority of If You're Reading This It's Too Late) was reportedly beat up by Meek Mill's crew "in the Nike store on Wilshire."
Another important question is: will Drake do his part in keeping the beef burning by throwing subliminal shots on his upcoming album, rumored to drop this month? Will the petty prevail?