Erik Bauersfeld, Voice of Admiral Ackbar in 'Star Wars,' Dies at 93 
He brought a minor character to life with the legendary "It's a trap!" line.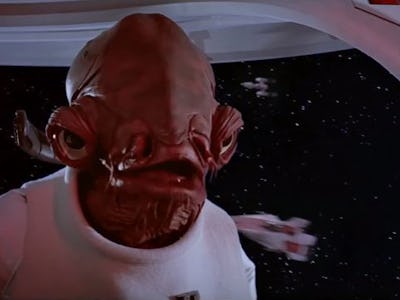 Erik Bauersfeld, voice of the Rebel Alliance's Mon Calamari general Admiral Ackbar, died today at the age of 93.
Admiral Ackbar's exclamation "It's a trap!" is one of the most quoted, meme-friendly, reaction-appropriate lines the original Star Wars trilogy produced, and Bauersfeld performed it with all the gusto of a veteran radio dramatist who loved to bring stories to life with his voice.
Ackbar was a minor character, with only a handful of lines, but Bauersfeld stepped into the role and made it his own — he took one look at a picture of Ackbar (who was physically played by actor Tim Rose) and came up with his guttural, commanding voice on the spot. His lines took him less than an hour to record, but have been replayed millions of times as the quote found an easy audience in online communities of internet banter.
But before, during, and after his intergalactic fame, Bauersfeld led Berkeley's KPFA radio station's drama and literature department. Bauersfeld died of natural causes in his home, according to his manager Derek Maki. Radio was his life's work, but he's best known for the voice of Ackbar. He also voiced Bib Fortuna, a henchman of Jabba the Hutt, in Return of the Jedi.
J.J. Abrams brought Bauersfeld back to reprise his role in last year's *Star Wars: The Force Awakens, knowing that the Mon Calamari military leader would be an iconic part of Leia Organa's Resistance.
In 2011, Bauersfeld sat down with the San Francisco Chronicle to discuss his work in radio, the small job he did in 1980 that became a cultural icon, and the fan mail he never expected to receive. You can watch the interview below.