How Hamburger Helper's 'Watch The Stove' Mixtape Proves That We're Starving For Content
Is it worse when sponsored content is actually kind of good?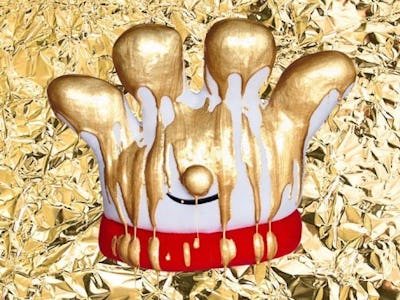 How could a piece of sponsored content be so digestible?
This is the burning question posed by the equally hot Watch the Stove mixtape that Hamburger Helper released last week. I'm sure I don't need to bore you with the details of its genesis, since you've probably gotten the gist of it all from a Facebook trending topic. The most necessary background information is this: Liana Miller, a communications director at General Mills, reached out to Taylor Madrigal (a.k.a. DJ Tiiiiiiiiiip) and asked him to collaborate on music for Hamburger Helper. General Mills wanted local Minnesota rap scene flavor, and they got it in spades. The rest, as they say, is very recent browser history.
The team at General Mills created something ridiculous, referential, and shareable. We ask how, but the "how" is pretty obvious. It's the reception that's surprising. The reaction on Twitter was majority positive, with the "omg i'm screaming!!" and "WHO DID THIS" retweets going off like wildfire. Hamburger Helper managed to sell out and get Internet street cred, all at once.
So making a viral mixtape easy? The success of the longform sponsored content that is Watch the Stove might feel like an indicator of how easy it is to imitate a style. You might play it for a friend and trick them into thinking it's Young Thug, but the joke would be on you. In actuality, Watch the Stove is an achievement for the artists involved, and it's arguably more impressive than making good music that doesn't carry the burden of a brand.
In order to create sponsored content that actually takes off, one must understand that it is both an art and a science. Denny's Diner tries to pop off funny tweets every day, tweets intended make you forget that you're LOL'ing along with a major corporation. Where Denny's misses the mark by dealing in the Internet-ephemeral business that is Twitter, Hamburger Helper succeeded by creating something corny and quality enough to make an impact.
Watch the Stove is a work of art and a successful experiment. The listener can enjoy the silliness of it all on a Weird Al-adjacent level, but without the grating musical stylings of bad parody. It's not a parody tape, it's a tribute to quality music. It's an ode to camaraderie, to rap and to memes, and it's coming from a pasta-mix-in with a smiling glove mascot. It just doesn't matter if you enjoyed the tape wholeheartedly or ironically; as long as you shared it, it remains a success. It couldn't be more 2016—maybe that's why we ate it up.