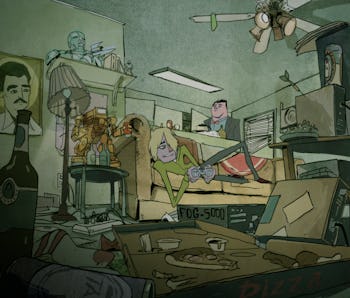 Entertainment
'Nerdland,' Paul Rudd and Patton Oswalt's Animated Comedy Gets an NSFW Trailer
"Do you know how old 30 is in Hollywood?"
Tribecafilm.com
SXSW may have had its own NSFW animated movie on its hands when it screened a work-in-progress version of Seth Rogen and Evan Goldberg's Sausage Party, but this year's TriBeCa Film Festival is bringing its own R-rated cartoon to the table with the new movie Nerdland.
The animated feature is from the twisted minds of Titmouse Inc., the group behind Adult Swim shows Metalocalypse, Moonbeam City and Superjail!. The film focuses on John (Paul Rudd), an aspiring actor, and Elliot (Patton Oswalt), a would-be writer, who are trying to find fame and fortune in Hollywood before they hit 30. Besides Rudd and Oswalt, the movie features a plethora of other comedy heavyweights including, Mike Judge (Silicon Valley and Beavis and Butthead creator), Hannibal Buress, Molly Shannon, and Kate Micucci. It's directed by Chris Prynoski, who cut his teeth on animated classics like Daria and Beavis and Butthead, and was written by Andrew Kevin Walker, the dude who wrote the screenplay for Se7en.
If that group of names doesn't at least get you partially interested, then we don't know what will.
Check out the NSFW red band trailer below via Variety.
Here's the synopsis via TriBeCa:
"Aspiring actor John (Paul Rudd) and would-be screenwriter Elliot (Patton Oswalt) are two LA dudes approaching their 30th birthdays without yet becoming the megawatt superstars they know they were meant to be. In a town built on who you know (and who knows you), the ambitious duo will set out on an all-day journey through their all-star rolodexes to make it big by the end of the night."
Nerdland doesn't currently have a distributor or a release date but will premiere at the TriBeCa Film Festival on April 14, and plays three other times throughout the fest.